Blind Alley
(1939)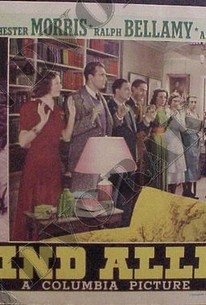 AUDIENCE SCORE
Critic Consensus: No consensus yet.
Movie Info
Blind Alley, directed by Charles Vidor is a chilling psychological drama in the film-noir tradition reminiscent of the fine melodrama The Desperate Hours. Hal Wilson (Chester Morris) is an escaped killer who hides out in the home of noted psychologist Dr. Shelby (Ralph Bellamy). While Wilson's gang holds Shelby's family and servants hostage, the pipe-smoking mental doctor calmly tries to discover the reasons for Wilson's murderous proclivities. As gun moll Mary (Ann Dvorak) covers Shelby, Wilson willingly allows the doctor to psychoanalyze him, using hypnosis to trace the killer's childhood. Blind Alley works as a "film noir" complete with surrealistic dream sequences. A taut story and moody cinematography by Lucien Ballard -- with sharp direction from Vidor, and superlative acting by Morris and Bellamy -- earn this film noir entry a top spot in the genre. The film was remade scene-for-scene in 1949 as The Dark Past, with William Holden as the killer and Lee J. Cobb as the unflappable head shrinker.
Critic Reviews for Blind Alley
There are no critic reviews yet for Blind Alley. Keep checking Rotten Tomatoes for updates!
Audience Reviews for Blind Alley
one early cinema piece toys with pop-freudianism, and it's like the filmmaker rips off "the interpretations of dreams" and put a crime story as example for illustrations, as if the audience then needs to be re-educated with some basic terms for psychoanalysis (perhaps still need that?) a trigger-happy criminal takes hostage of a psychoanalyst's household and impulsively murders several men in fits of un-controllable rages, and he suffers from paranoaic nightmares and headache, so the doctor says he needs to confess to relieve his pain..then the criminal does. it turns out that he accidentally gets his father killed and the scenes in past memories get repressed and sublimated into other metaphoric objects in his dreams that continue to torment him with guilt. the result of diagnosis is: he's trigger-happy when he's provoked because he feels the need to eliminate the haunting vision of his dad (metaphoric patricide) everytime he gets upstaged and threatened, when he feels insecured about his power. but when doctor cures off his symton, his compulsively repeated nightmares, he also kills off the criminal's survival instinct. in the end, he loses his trigger-happy quickness and is unable to shoot back when the police arrives to arrest him...he dies. the same story gets adapted again in 40s with william holden as the title role. but i still think the 30s version superior. and ann dvorak, paul muni's sister in scarface, plays the criminal's moll, another gritty performance from this good actress so full of nervous energies and hard-boiled street-wise one-liners.
Veronique Kwak
Super Reviewer
Blind Alley Quotes
There are no approved quotes yet for this movie.
Discussion Forum
Discuss Blind Alley on our Movie forum!