Blockers
(2018)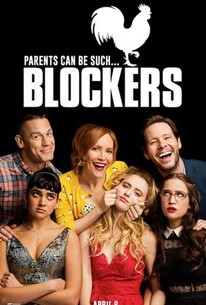 TOMATOMETER
AUDIENCE SCORE
Critic Consensus: Blockers puts a gender-swapped spin on the teen sex comedy -- one elevated by strong performances, a smartly funny script, and a surprisingly enlightened perspective.
Movie Info
When three parents stumble upon their daughters' pact to lose their virginity at prom, they launch a covert one-night operation to stop the teens from sealing the deal. Leslie Mann (The Other Woman, This Is 40), Ike Barinholtz (Neighbors, Suicide Squad) and John Cena (Trainwreck, Sisters) star in Blockers, the directorial debut of Kay Cannon (writer of the Pitch Perfect series). The comedy is produced by Seth Rogen, Evan Goldberg and James Weaver, under their Point Grey Pictures banner (Neighbors, This Is the End), alongside Jon Hurwitz & Hayden Schlossberg (Harold & Kumar series) and DMG Entertainment's Chris Fenton (47 Ronin). Good Universe's Nathan Kahane and Joseph Drake (Don't Breathe, Juno) executive produce with Chris Cowles (Collide) of DMG and Josh Fagen, Dave Stassen and Jonathan McCoy. The film is written by brothers Brian & Jim Kehoe, Hurwitz & Schlossberg and Eben Russell.
News & Interviews for Blockers
Critic Reviews for Blockers
Audience Reviews for Blockers
About ten years ago, there wasn't a single argument that would sway me into believing that John Cena would work as a leading man in a comedy because even then he was average at best in some generic action films. Well, putting together the fact that I was seriously wrong about that and the fact that Blockers is actually one of the better comedies I've seen in quite some time, I was pleasantly surprised during my viewing of this movie. Don't get me wrong here; this is a movie with jokes and storylines that you've definitely seen many times in the past, but there's something special about this particular cast and the way this particular film is told that had me rolling on the floor on multiple occasions. If you're looking for a good comedy or quite frankly a solid little film in general, here's why Blockers earns a recommendation in my book. It's prom night and every teenager in the city is wondering how to plan or behave on their special night. Blockers picks up as these events are slowly heating up and follows three friends in Julie, Sam, and Kayla. They make an agreement to all have sex on prom night and their parents happen to see their entire conversation. Hell-bent on stopping this from happening, these parents begin to hunt them down, following their every move and antics begin to ensue. From family issues to personal fears with certain characters, there's more on the surface than just partying on prom night. There was heart put into certain aspects of this script and it definitely shows throughout the final act. John Cena, Leslie Mann, and Ike Barinholtz are all very well-cast as these over-protective parents and surprisingly I would put the asterisk on Barinholtz. I've seen him appear in comedies before, but he stole the show here in my eyes. Always being the voice of reason to the other parents, while also being the child on multiple occasions, this made for some very fun sequences involving these three. Cena and Mann are both funny here as well, but I feel like audiences have come to expect that from them by now. As far as negatives go, I have to admit that John Cena needs to stick to comedy, because his dramatic heart-to-heart moments with his daughter felt awkward, due to the fact that he's not really accustomed to anything outside of action or comedy. Every actor/actress plays off him well and brings out his strengths, but I sadly believe he will always be best suited as the stereotypical strong guy in action films or comedies. Sure, it's definitely possible that he improves over time, but I believe comedy is his sweet spot and that shouldn't change. In terms of the comedy itself, Blockers is the type of film that plans out its jokes and brings some of them full circle, which is what makes many great comedies classics. No, I'm not saying Blockers will become a classic because I can almost guarantee that it won't, but it has quite a few laughs in its arsenal that had me laughing pretty hard. I feel as though many other viewers will have the same impact, which is why I'm talking so highly about this film and not mentioning many negatives. In the end, Blockers suffers from being a movie with a familiar premise and not enough memorable lines to be quoted by audiences, but it has enough in-the-moment gags and emotional depth to make you care about everything and everyone when you're watching it. This film had the potential of being one of the worst comedies out there, but it's surprisingly one of the better ones I've seen in a while. For all these reasons and more, I think this movie is one that works for both teenagers and adults. Check out Blockers if you have the chance.
½
As I've often said, Comedy is the one genre that has the hardest time convincing me of it's intentions. As much as these films try, I often find it difficult to be as impressed with this genre. So given the fact that comedy is one of my least favorite genres, Blockers was already at a bit of a disadvantage going in. Complement that fact with the film being the type of raunchy comedies that Seth Rogen has made his career on, I wasn't looking forward to the film. The trailers never sold me and I just figured it was going to be a film that never gets over the ridiculous low brow humor. While Blockers is much better than expected, I don't think it's "one of the funniest films in years" like I've heard some critics say. But what's impressive about the film actually has nothing to do with humor, but everything to do with the emotional arc between the parents and their children (who make a sex pact to lose their virginity on prom night). Everyone in the film gives a good performance, including some unknown young actors given a shot here, but I found the heart to heart scenes of the parents and the children, without any sort of ridiculous joke or physical gag. With that said, besides some really impressively funny sequences from John Cena, I didn't find myself laughing too much watching Blockers. There are certainly some moments here and there, and the film more than benefits from a script that's far more original than most comedies, it still feels like there could have been more to this one. 7.1/10
Thomas Drufke
Super Reviewer
Blockers Quotes
There are no approved quotes yet for this movie.