Blood - The Last Vampire
(2001)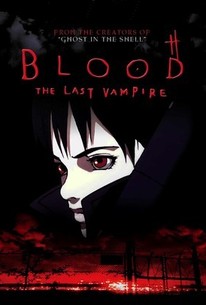 Movie Info
This anime feature blends digital computer animation with the more traditional drawn animation cells. The moody artwork complements the story of Saya, the last true vampire, who must find and destroy an evil group of blood-sucking creatures that are hiding, and killing, within a U.S. compound in Japan during the Vietnam War. This DVD presentation also includes a "making of" featurette and a trailer for the film. The voice of Saya is provided by Youki Kodoh, who starred in 1999's Snow Falling on Cedars. ~ Jessica Frost, Rovi
People Who Like this movie also like
News & Interviews for Blood - The Last Vampire
Critic Reviews for Blood - The Last Vampire
Audience Reviews for Blood - The Last Vampire
½
21/04/2010 (DVD) Not the best 'Anime' but its still pretty cool. They made a real life film feature to this and it was interesting to see both versions. I'm not sure why they chose to do a realistic film for this 'Manga/Anime' when there is stacks of better 'Manga/Anime' than this, but I must admit they did a good job on the real-life action movie in my opinion. Anyway, the animation is great and the colors are nice and dark with gushing blood and gore.
EightThirty .
Super Reviewer
½
Coming from the creators of Ghost in the Shell, Blood: The Last Vampire is one entertaining film with one major flaw. It is too short.
At only 45 minutes, this vampire tale is interesting and entertaining enough to leave the viewer wanting more. Believe me when I say that there is room for more. Nevertheless, the main character of Saya is the only character to follow, as there is no other to take the stage. There is just no time for the development of any other character. Not even a villain. In fact, a good portion of Saya is left to question, which goes back to the run time yet again. The conclusion with the picture of Saya is a nice touch though.
There is a lot of killing and action. That is all this basically is since there isn't enough time to develop a full blown story. This is a shame. Still, this film has a lot to offer.
The animation itself looks wonderful. Even though this is done in 2000, the digital effects look good even today. The characters are reminiscent of Ghost in the Shell and the surroundings and objects have a little of that CG look to them.
The voice acting isn't too bad. The dialogue is a mixture of Japanese and English and it is written this way. The Japanese sounds good, however the English is somewhat of a disappointment. Youki Kudoh providers her voice for Saya and her bland deep sound fits with her personality.
Blood: The Last Vampire is good for what it is, however there is much more potential that is still to be revealed.
½
The animation is beautiful, but it's really light on character development, or an actual story for that matter. It could've been worse, but frankly, it could've been a helluva lot better, too.
Duncan Ryan-Ross
Super Reviewer
Blood - The Last Vampire Quotes
There are no approved quotes yet for this movie.