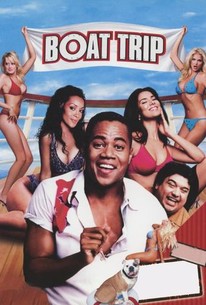 Boat Trip
2003, Comedy/Lgbtq+, 1h 34m
90 Reviews
50,000+ Ratings
What to know
critics consensus
Boat Trip is a lame, juvenile farce that's heavy on stereotypes and desperate antics but short on brains and laughs. Read critic reviews
Rate And Review
Movie Info
After Nick (Horatio Sanz) makes an insensitive remark, his travel agent decides to get some payback by sending him and his best friend, Jerry (Cuba Gooding Jr.), on a cruise for gay men. As the true nature of their situation gradually dawns on them, they start to get over their feelings of homophobia and meet potential mates. For Nick, love takes the form of a gorgeous model, Inga (Victoria Silvstedt), while Jerry develops feelings for dance instructor Gabriella (Roselyn Sánchez).
Audience Reviews for Boat Trip
There's this quote that is, often, falsely attributed to Morgan Freeman that says 'I hate the word homophobia. It's not a phobia. You are not scared. You're just an asshole.' The quote, I believe, originated from the twitter parody account Tweets from God. The account is now defunct, but I followed it for some time on twitter. Whether Morgan Freeman said that or not, the fact is that it's a quote that's 100% on the money. I've never understood the whole deal with homophobes. Motherfuckers can't run their own lives and they want to control someone else's and tell them that they shouldn't be in with a person of the same sex because some bullshit about it's immoral. If you are two consenting adults and you're not, in any way, shape or form harming anyone else, nobody is allowed to tell you who you can be with or what type of sex you have. The reason I start with this is simply because of the fact that this is the most homophobic, gay-panic movie I've seen in quite a while. And it was just absolutely fucking dreadful. This would have been one of the worst movies I've seen, in quite a while, were it not for the fact that Lin Shaye is in this movie. I love Lin Shaye and she, regardless of her character, gets this film one star just by being in it. I don't think there's a problem, inherently, with this type of movie. Really, I'm serious when I say that. The thing is that, with this movie, you needed to avoid exactly the same things that this movie gave in to. Gays, in this film, are all portrayed as effeminate, cross-dressing, sex-crazed miscreants. But they're 'fun', so it's ok to portray them in this way just because they're fun people to be around. Homosexuals are human beings like the rest of us. They can't be narrowed down to a specific set of stereotypes that this film, clearly, wants to narrow them down into. And don't even get me started on the way women are portrayed in this movie, at least the Swedish suntanning team. They are just there to look hot and be half naked for Nick to completely ogle at and drool over. This movie makes Sandler's treatment of women in his films like high-quality feminist cinema. Sex comedies are tricky to pull off, but they're not impossible if the gags themselves are well-constructed and the film, at least, has some sort of character progression. Klown, a Danish sex comedy, and Superbad are just two sex comedies off the top of my head that have those elements. This film just has the gags and they're, quite honestly, really terrible. Not to mention the fact that the lead characters, Jerry and Nick, are horrible people. Jerry is a lying douche, leading this woman, that he's falling in love with, that he's truly gay. Nick. Where do I even get started on Nick? Nick is one of the most obnoxious characters I've seen in a long time. I just really wanted to punch this fucking asshole right in the face. And I get that he's 'meant' to be ignorant in assuming that gay people can't be doctors/lawyers/etc, but even when he befriends these men, he can't stop being annoying. I've seen Horatio Sanz in SNL before, back when I watched it, and I didn't really care about him one way or the other. I mean I didn't hate him or anything of the sort, but I just found him to be so goddamn awful in this movie. He's not funny, he's not sympathetic, he's absolutely nothing. You just want a giant septic tank to fall on Nick and crush him to death instantly. And that's completely on Horatio. Granted, he was just following 'orders', but, again, Jonah Hill's character in Superbad is Nick in this movie. But the writing in Superbad was so great that Jonah's character didn't come across like an unlikable asshole. And that's just the tip of the iceberg as it relates to this movie. Part of me wonders if there are people who saw this, liked this and thought Nick was a hilarious character. Show me those people so I can punch them right in their faces. This movie is horrifyingly unfunny. I'm not gonna lie, there were a few chuckles, but it's the type where you feel really fucking embarrassed of yourself for actually having chuckled. I couldn't even begin to tell you what these moments were though, that's how forgettable the movie is. Well it's not forgettable in the sense of how dreadful it truly was. This is one of my angrier reviews in a while, well since I accidentally erased my Big Sky review and I had to do it all over again. But this hasn't been deleted accidentally, yet, and it just captures my thoughts on this perfectly. Stereotypical and homophobic movie with shit comedy, terrible people as lead characters and awful acting. This would have destroyed Cuba Gooding Jr's career deader than dead if it wasn't for the fact that RADIO came out the year after this one. Think about that for a second. Cuba had this movie and Radio come out within a year of each other, it's no surprise that his career hasn't recovered since then. Yea, this was terrible. PS: And, yes, this is another movie that I've downgraded. Lin Shaye is a fantastic actress, but she's, realistically, not in the film enough to elevate this from half a star to one. She's really not, so the half a star rating sticks. This is just a fucking dreadful movie.

By far one of the worst movies I've ever seen. 'Boat Trip' is charmless, immature, offensive, full of unfair stereotypes and low on laughs.

Cuba Gooding, Jr. is a guy going through relationship problems and Horatio Sanz is his obnoxious, oversexed best pal who is trying to go away on a singles cruise hoping to get laid. They end up insulting their travel agent (cameo by Will Farrell) who sends them on a gay cruise out of spite. Gorgeous Puerto Rican Beauty Roselyn Sanchez and the Swedish Sun Tanning Bikini team provide the much needed eye-candy to keep the interest of the males viewing. Roger Moore plays the British sophisticate interested in having Sanz take a bite of his sausage.His protrayal as an ancient "queen" is hilarious. Don't expect much in the way of story-line-- yes, it may be a bit stupid, vulgar, crude and corny at times, but stupid can be funny as well. What do you expect? It is a comedy so feel free to laugh out loud! It's a good movie to rent with your buddies if you like sunbathing, gay jokes, sexual innuendos and a risqué banana scene with Roselyn Sanchez showing Cuba how she can play, lick, nibble and kiss the lucky banana.

(2003 Director: Mort Nathan) Surprise! The cruise 2 buddies book is a "gay" parade...unbeknownst to them. Guest starring James Bond #2 (Roger Moore-The Saint) who welcomes them both their first day on the cruise. Nick (Horatio Sanz) accidentally shoots down a helicopter filled with Swedish tanning lotion models & befriends his idea of goddess in Helga (Lin Shaye). Jerry decided on the cruise becuase of his 4-year long disappointing relationship with Felicia. But drunk Jerry falls into the pool and is rescued by Dominique (Roselyn Sanchez) who is a dance instructor and THE OTHER gorgeous female on this Gay Cruise. Jerry immediately falls in love but after these two become friends, and she shares her loathing of the men in her past, he decides to maintain the illusion of being a gay man. His friend Nick is not a willing co-partner in this sham, but reluctantly ulti- mately goes along. Richard Roundtree?
See Details