Born to Raise Hell
(2010)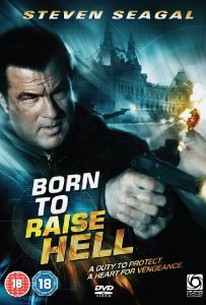 AUDIENCE SCORE
Critic Consensus: No consensus yet.
Born to Raise Hell Photos
Movie Info
Hard case Interpol agent Samuel Axel (Steven Seagal) forges a shaky alliance with his sworn enemy in order to take down a ruthless Russian arms dealer with a penchant for killing cops. When one of his team members is brutally gunned down in Eastern Europe, Axel vows to see that justice is served. But just as he closes in on the Russian gun trafficker responsible for the killing, an all-out war explodes between the Russians and Gypsies. Just when it stars to look like Axel's target may skate away scot free, the determined agent throws his cards on the table, and moves in for the kill.
Critic Reviews for Born to Raise Hell
Audience Reviews for Born to Raise Hell
Well it's time that I give Steve Seagal a round of applause for being the first action star to receive a 0% in a action movie. Considering how horrible I think of Seagal other efforts, you know is must pretty bad to receive that 0%. Well to the movie title credit it does "Raise Hell" upon it victim who dare watch this poor excuse of an action movie. The plot of this movie is about Seagal who plays a member of an international drug task force located in Romania. Once again, Seagal plays a character who's in some kind of law enforcement. Now this is probably like the 28th time Seagal played this kind of character and I have to give him credit for being consistently terrible every time he does it. Now the only thing bigger than the plot holes in this movie is Steven Seagal ego, this is one of the most poorly put together plot I've seen in any action movie. Just for curiosity lets see who wrote this, Steven Seagal. Bad actor plus an ego bigger than Chuck Norris equals really horrible plot, makes sense. What about Seagal performance, well, his acting would put any tree to shame which quite accomplishment if you ask me. As for his fight scenes, there some over the top wire work which are surprisingly even boring to watch people getting killed and plus Seagal is sixty, there is no way or any parallel dimension where he would get a 20 something year old girlfriend. I just couldn't buy that, even after the fourth beer bottle it still seem implausible. Now aside from solely blaming Seagal for this horrendous action movie, everyone else is just as awful. The cast put no effort in acting, the director simply doesn't care if what were watching is necessary, and is inconsistent. Like for example, there's a shootout in some bar and yet there's not a single DAMME bullet hole anywhere. Now back with Seagal, he's a horrible writer. The movie spent the entire time establishing Seagal character who sole purpose is protect the law and it citizens (but keeps making bad movies) and he works with a criminal by the end. That's some poor writing, even worst, he introduces another villain to us despite the fact we barely see the other one do anything. This is the kind of action movie that only could from one place, like the four word the title suggest. Born To Raise Hell does exactly what the title suggest when viewing this, there's absolutely nothing salvageable about this one. The only thing left to do is drop this in water and see if goes up in smoke, which to my amazement actually went up in smoke faster than Seagal paycheck on pies.
Caesar Mendez
Super Reviewer
Born to Raise Hell Quotes
There are no approved quotes yet for this movie.