The Bostonians
(1984)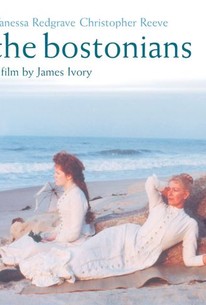 Movie Info
Adapted by Ruth Prawer Jhabvala from the novel by Henry James, Merchant/Ivory's The Bostonians is set among the Back Bay uppercrust of the 19th century. Basil Ransom (Christopher Reeve), bored by his opulent lifestyle and his "proper" friends, is fascinated by his cousin, outspoken suffragette Olive Chancellor (Vanessa Redgrave). Basil and Olive's mutual friend is likeable, gregarious Verena Tannant (Madeleine Potter). Soon a triangle develops, albeit an unorthodox one: Basil and Olive both find themselves pursuing Verena, Basil because he is in love with her, and Olive because she wants to exploit Verena's social connections and gift for public speaking to promote her own political ideology. Lurking in the background is Verena's true love, poor-but-honest attorney Henry Burrage (John Van Ness).
Critic Reviews for The Bostonians
All Critics (5) | Top Critics (1) | Fresh (4) | Rotten (1)
Merchant Ivory screen adaptation of Henry James' novel is handsome, but suffers from the miscasting of Christopher Reeve and Madeleine Potter, though Vanessa Redgrave is decent.

Classic Film and Television
A literary work with exquisite production values and a vivid portrait of class differences in Boston social life at the turn of the century.

Spirituality and Practice
Audience Reviews for The Bostonians
You know I'm kind of sick of it but also it hasn't happened in a while, James Ivory makes the same damn movie every time in his career from the 80's to 90's. Seriously if I stumbled on this on TV without a label, I could easily confuse it for Room with a View, Howard's End, or Remains of the Day. Some of the acting is fine it's just such a drag to get through. Of course in any James Ivory movie, the costumes, art direction, and production design are wonderful but story is just not a factor in this
Kyle Bailey
½
Nominated for 2 Oscars, a fascinating look at an era we can only dream about, post Civil War Boston. Marvelous costuming, sets, this movie is truely unusual for today's audiences (it requires a brain). Ostensibly about the suffreget (woman's rights) movement, this film depicts several subplots. One about a love affair and the other about sustaining a woman's movement. [img]http://t2.gstatic.com/images?q=tbn:ANd9GcRbgB0DEkh67nKt-xfZBXTvlOjxoi5E2JITbh8rBvZpX6BiGugeig[/img] Christopher Reeve "The Bostonians is a novel by Henry James, first published as a serial in The Century Magazine in 1885-1886 and then as a book in 1886. This bittersweet tragicomedy centers on an odd triangle of characters: Basil Ransom, a political conservative from Mississippi; Olive Chancellor, Ransom's cousin and a Boston feminist; and Verena Tarrant, a pretty, young protégée of Olive's in the feminist movement." -- Wikipedia [img]http://upload.wikimedia.org/wikipedia/en/thumb/8/86/TheBostonians.jpg/200px-TheBostonians.jpg[/img] While this is slow paced and high drama, its not for everyone and doubt for anyone in the post-2000 generation. Still one can only hope that quality cinema has an appeal even in the action-adventure era. NOTES: 1 Mark Twain vowed that he would rather be damned to John Bunyan's heaven than read the book. 2 To put it mildly, The Bostonians [as a book] was not well received by contemporary critics, especially on the western side of the Atlantic. Author James' portrayal of Boston reformers was denounced as inaccurate and unfair, especially because some felt James had satirized actual persons in the novel. 3 Vanessa Redgrave's performance received high marks, however, 1984 Golden Globe and Academy Award nominations for Best Actress. Further, the movie earned other award nominations for costume design and cinematography. [img]http://t0.gstatic.com/images?q=tbn:ANd9GcR1AJkcJbvM9QGXU8elfnk4ttfIUVJuN5RJ1BGVYtbC8GRLDideIw[/img] SEE the entire film here: http://www.youtube.com/watch?v=I4L-qel7AQs [img]http://t3.gstatic.com/images?q=tbn:ANd9GcTG3zvMJvVA1G6d_Bu9TtE5RnMfFuDMIQZClj2tjq6BUW07wJ5E[/img] REVIEWS: 40% viewed on 5/9/05 (Sun) I think there are few standard things you can look forward in the Merchant Ivory movies. Great cinematography. Great performan... 30% Awful. A poor script by Ruth Prawer Jhabvala, woefully miscast, and poorly directed. True, the basic story line from the Henry James novel is intrigu... [img]http://t1.gstatic.com/images?q=tbn:ANd9GcTPqYQZXf2JGjRgQ8wwZK0Wb3l9e7DXJV0hXxazdjOVhXVerCiKpA[/img] Cast Christopher Reeve - Basil Ransom Vanessa Redgrave - Olive Chancellor Jessica Tandy - Miss Birdseye Madeleine Potter - Verena Tarrant Nancy Marchand - Mrs. Burrage Wesley Addy - Dr. Tarrant Barbara Bryne - Mrs. Tarrant Linda Hunt - Dr. Prance Charles McCaughan - Music Hall Police Officer Nancy New - Adeline John Van Ness Philip - Henry Burrage Wallace Shawn - Mr. Pardon Awards 1985 National Society of Film Critics Won: Best Actress - Vanessa Redgrave 1985 Golden Globes Nominated: Best Performance by an Actress in a Motion Picture - Drama - Vanessa Redgrave 1985 Academy Awards Nominated: Best Actress in a Leading Role - Vanessa Redgrave Nominated: Best Costume Design - Jenny Beavan, John Bright 1985 BAFTA Awards Nominated: Best Costume Design - Jenny Beavan, John Bright [img]http://t0.gstatic.com/images?q=tbn:ANd9GcRFbZk3xc10bP4PxO3m0DQaNbM5EPA_R2CbzS4R0JJy8jQP35DGGQ[/img] Directed by James Ivory Produced by Ismail Merchant Written by Ruth Prawer Jhabvala Based on The Bostonians by Henry James Cinematography Walter Lassally Distributed by Almi Pictures (USA) Release date(s) 2 August 1984 (United States) Running time 122 minutes Country United Kingdom United States [img]http://upload.wikimedia.org/wikipedia/en/thumb/0/0a/The_Bostonians.jpg/220px-The_Bostonians.jpg[/img]
monsieur rick
½
Christopher Reeve is good if a bit stiff and Vanessa Redgrave is exquisite as always but the pace is slow and the central character and lead actress lack a radiance and fire that is essential for the story to engage.
The Bostonians Quotes
There are no approved quotes yet for this movie.
Discussion Forum
Discuss The Bostonians on our Movie forum!