Boy Wonder
(2011)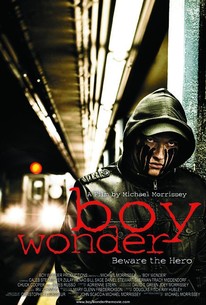 Movie Info
A young boy witnesses the brutal murder of his mother during a Brooklyn car-jacking. Now a 17-year-old loner, Sean Donovan (Caleb Steinmeyer) is relentlessly haunted by his past and obsessed with finding his mother's killer. Drawn into a nocturnal urban underworld, Sean's consuming rage is vented one night, defending himself from a chaotic attack by a drug dealer. Thus begins his life as a quiet, straight-A student by day and a self-appointed hero at night. Investigating a series of vigilante murders, hot-shot new homicide detective Teresa Ames (Zulay Henao) takes an interest in Sean and his case. Engaged in a twisting game of cat and mouse, Sean and Teresa become allies by day ... and enemies by night. -- (C) Official Site
Critic Reviews for Boy Wonder
Audience Reviews for Boy Wonder
I thought this film had a very clever ending, it's such a shame that the rest of the film was so boring and uninteresting. It's clear that this film has a minimal budget, but they make the most they can with it. The problem I have is with the scripting, even though there is some comedic moments, the drama is overly serious to the point where it's laughable. The film also fails to create much suspense, preferring to use flashbacks to the moment of Sean's mom's murder and trying to use mysterious death to help carry the film. It doesn't really work, because it's all fairly predictable stuff to be honest. I did like the fact that the movie chose to present its character with a bit of moral ambiguity because since he's not in his right mind, you're never sure what he's doing or if what he's seeing in actually real. They do this by having, from Sean's point of view, by exaggerating the arguments he sees on the streets. For example, an arguing couple from Sean's view, looks considerably worse than it is, he sees the man yelling angrily at his girlfriend when in reality he's calm. So it's not like you can trust Sean's actions, you don't know if he's doing the right thing or not. The problem with this is that the actor who plays Sean, Caleb Steinmeyer, isn't very good. I suppose he's suppose to sell the fact that the character is an introvert with very obvious emotional problems, but I just found his delivery to be wooden and dull and it's hard to feel any sympathy for the character. And Zulay Henao isn't great either, she wasn't entirely convincing in her role. If anything, Bill Sage as Sean's father is the acting highlight of the film as he's the most interesting character in the entire film as he's the one who has the most to carry emotionally for the way he was with Sean and his mom before her death. I do think the movie has some good atmosphere but the rest of the film is fairly below average. The scripting isn't strong, nor is the story and the acting from the leads is largely terrible. That doesn't make this movie terrible, but it does make it very below average.
Jesse Ortega
Super Reviewer
Another vigilante movie, yet not. Nice dark twist to this one. This film combines humor, drama, mystery, emotion, a little action, and then throws in an unconventional ending to top things off. Really good independent film...
Cynthia S.
Super Reviewer
Cast: James Russo, Zulay Henao, Tracy Middendorf, Bill Sage, John Sharian, Alex Manette, Suzanne Didonna, Caleb Steinmeyer Director: Michael Morrissey Summary: Years after witnessing his mother's brutal murder, withdrawn Sean Donovan develops a dark alter ego and starts dispensing some vigilante justice. But soon a dedicated cop picks up his trail, and Sean's twisted crusade begins to implode. My Thoughts: "This surprisingly turned out to be better then what I was expecting. With a mostly unknown cast of characters, I was expecting bad acting, editing, and story-line. So it was nice to be surprised by how wrong I was. Caleb Steinmeyer, plays dark and brooding Sean Donovan. He did a great job in his role. I will have to look out for him in more roles. The revenge is brutal and swift. Sean becomes this darker alter ego and it is a bit scary how quiet and shy he is at first to then be this lethal force to be reckoned with. The ending was great. I was pleasantly surprised by it as well. Just a great revenge thriller. One I wouldn't mind seeing again."
♥˩ƳИИ ƜѲѲƉƧ♥
Super Reviewer
Boy Wonder Quotes
| | |
| --- | --- |
| Terry Donovan: | '' You like to hurt people. '' |
| Terry Donovan: | You like to hurt people. |
| Sean Donovan: | You like to hurt people. |