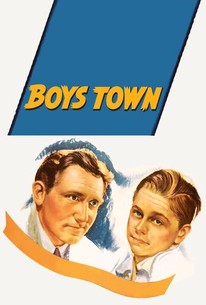 Boys Town
1938, Drama, 1h 36m
20 Reviews
2,500+ Ratings
Where to watch
Rent/buy
Rent/buy
Rent/buy
Rate And Review
Movie Info
The devout but iron-willed Father Flanagan (Spencer Tracy) leads a community called Boys Town, a different sort of juvenile detention facility where, instead of being treated as underage criminals, the boys are shepherded into making themselves better people. But hard-nosed petty thief and pool shark Whitey Marsh (Mickey Rooney), the impulsive and violent younger brother of an imprisoned murderer, might be too much for the good father's tough-love system.
Audience Reviews for Boys Town
A cute, sentimental movie, which you can't help but like. Tracy is fantastic as Father Flanagan, and that cute kid who plays pee-wee is priceless. Sometimes it was a bit too much sentimentality for me, but if you love true life dramas, you will like this movie.

Spencer Tracy plays Father Flanagan, the creator of Boys Town, in this sentimental film from 1938. Flanagan believed in the motto "There's no such thing as a bad boy" and made it his life's mission to help reform boys who'd been abandoned to the streets or to the various other state institutions (which were so effective at creating better criminals). After being inspired by a death row convict who claimed if he'd had just one friend looking out for him when he was twelve, his life would've been different, Father Flanagan abandoned his soup kitchen and decided to focus on helping young boys instead. Things go great the first few years, that is, until trouble arrives in the form of Whitey Marsh (Mickey Rooney), a street tough who's gangster brother pays to have accepted into the town. Whitey doesn't fit in and apparently doesnt' want to either, putting on a big, tough guy act to try and bully the other kids. It doesnt' work, of course, as most of the kids come from bacgrounds just as tough, if not tougher than him. Mickey Rooney is one of those child actors who is basically a fully formed performer right from the start, and his performance as Whitey Marsh wouldn't be significantly different if delivered as an adult. Spencer Tracy is subtle and understated, perhaps more understated than in any other role in his career, and it's little surprise he won the oscar. The weepiness of Rooney and "Peewee" (Bobs Watson) can be a little comical at times, but kids tend to be very emotional, and I think the performances are appropriate for the characters. A nice little movie.

Continuing my study of the Oscar-nominated films of 1938, we move to "Boys Town," which I found engaging but not inspiring. The film is a depiction of the real-life Boys Town, which was a hugely successful orphanage for boys founded in the 1920s by a Catholic priest. Spencer Tracy won his second Oscar for his portrayal of the priest, Father Flanagan. Mickey Rooney, playing one of the most troubled boys at the facility, nearly sinks the picture with his ridiculous overacting. Luckily though, the other teenage actors are superb, especially Gene Reynolds, playing a boy with a disability who becomes mayor of the institution. The film confirms my view that 1938 was a mediocre year for American film. It amazes me that "Boys Town" received so many Oscar nominations. In addition to Best Picture and Best Actor, the film received nods for Best Director (Norman Taurog) and Best Original Story. Taurog, who would in later years direct many of Elvis Presley's films, was named Best Director only once, in 1930 for "Skippy," another film starring a child actor (Jackie Cooper).

An endearing and lovable film in spite of the fact that it practically drips sap. The sentimentality is so thick at times that it almost seems to parody itself. A schmaltzy classic.
See Details