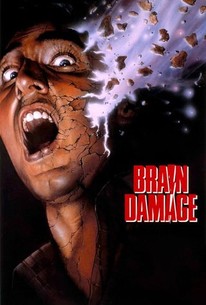 Brain Damage
1988, Horror, 1h 34m
15 Reviews
5,000+ Ratings
Rate And Review
Movie Info
A boy (Rick Herbst) grows addicted to psychedelic jolts from an eel-like brain-eating monster called Elmer.
News & Interviews for Brain Damage
Audience Reviews for Brain Damage
Leave it to Frank Henenlotter to come up with the craziest premises for horror films. Brain Damage is probably his "masterpiece". It's an incredibly aimless horror movie that works for being so outrageous, funny and oddball, featuring a smooth talking penis like apendage that ejaculates some chemics onto our heroe's brain, causing colorful allucination that he gets addicted to. As payment, our hero must feed brains to our little parasite. Yep, it's that kinda movie, you'll either love it, hate it but you just won't be able to ignore it.

While Brain Damage was very original and entertaining, I did feel like it did drag on for a little longer than it had to. I think the film could be a masterpiece if better executed, but we have what we have, so let's briefly talk about that instead. This is a gross-out horror. Brain meatballs, brain eating, a brain blowjob, brain this and brain that. It's awesome. There's also these indescribable calluses that we see on Mike during a sex scene, it's only a shot that lasts a couple of seconds, but I think t's a bit worth mentioning. And this is why the film is so great, something as simple as a two second shot is interesting enough to looks back upon during a review! The plot is decent, I really liked it up until Mike found about what the brain (who we find out is named Aylmer) was making him do and began to try resisting him. From there on, it got out of hand, and this is where I feel like the movie could have improved. Some people may think the tie ins and ending are good, but it wasn't my cup of tea. Good movie though.

Truly psychedelic and bizarrely compelling, Frank Henenlotter's talent is transforming high-concept, speculative horror into social commentary much like Romero. This is his anti-drug cautionary tale but it is never heavy-handed. The scenes of Brian's sensory overload are so vivid that we understand why he will accept Aylmer's parasitic requests. The theme sounds like 'The X-Files' cribbed it. For such a howlingly funny B-movie, there is a melancholy overcast over it such as the withdrawal contest between Brian and Aylmer in which Brian becomes more haggard by the hour while Aylmer taunts him that "he will do all the thinking" for him from now on. 'Brain Damage' is a hidden horror gem.

Brain Damage is one awesome Horror Comedy. It's a very original film by the director of Basket Case. Brain Dame is a metaphor for drug addiction, and Frank Henenlotter story is rich with the 80's drug culture, as he presents the drug ravaged streets of New York in the 80's. The film is a very creative work of Horror Comedy and has some very inventive scenes that are probably the best,m most absurd that has ever been put on film fora horror film. Brain Damage is a terrific film from Henenlotter and is on par with his previous effort, Basket Case. However even though this film is not for everyone, if you like films like Basket Case, you're sure to love this one. And if you're lucky, you can buy the limited edition of the film that has been limited to 50,000 units and is now out of print. A terrific, original film, Juice me up! this is one addictive film.
See Details