Brannigan
(1975)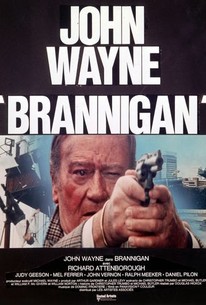 Movie Info
In this film, Detective Jim Brannigan is an Irish-American detective at large in London. After the requisite culture-clash routines, it's down to business as Brannigan teams with Scotland Yard official Commander Swann to corral a crook who has absconded to England to avoid extradition.
Critic Reviews for Brannigan
All Critics (6) | Top Critics (1) | Fresh (1) | Rotten (5)
There's some terrific supporting material in that cast list, but everybody onscreen looks, and has excellent reason for feeling, pretty embarrassed about the whole thing.
A pale imitation of Eastwood's Coogan's Bluff, this is one of Wayne's worst films, a UK set thriller, reflecting the Duke's last effort to expand his range and enter into the modern era of James Bond and co.
This one is for the Wayne completist who must see all of his 142 films.
Audience Reviews for Brannigan
Fun to see the Duke as a detective instead of a cowboy. But I found the script pretty bland.
Unexceptional crime thriller benefits from London location filming, a cast full of good actors and John Wayne in the lead. The main story is average but it moves at a good pace and has an enjoyable car chase thrown in. The theme music over the opening credits is classic terrible 70's junk but fortunately the rest of the supplemental soundtrack is much more in synch with the feeling of the film.
½
Drags a bit in spots, but it's a fun cop movie starring the Duke.
Tim Salmons
Super Reviewer
Brannigan Quotes
There are no approved quotes yet for this movie.