Brave Little Toaster to the Rescue
(1999)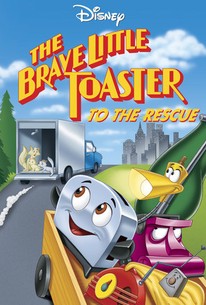 Brave Little Toaster to the Rescue Photos
Movie Info
The Brave Little Toaster to the Rescue, the latest animated feature in the popular series for children, concerns the adventures of Toaster and his pals (and fellow household appliances) Lampy, Radio, Blanky, and Kirby the carpet sweeper, who make friends with a group of animals at a veterinary clinic. When Toaster discovers that the animals are scheduled to be sent to a scientific laboratory where they'll be used for testing, he and his friends join forces to help the critters escape to freedom.
Critic Reviews for Brave Little Toaster to the Rescue
Audience Reviews for Brave Little Toaster to the Rescue
Bradley Wright
Super Reviewer
½
If they wouldn't have misreleased these sequels in opposite order, I feel they would be a little more appreciated. Sure, it isn't nearly as classic as the first, and has the typical lay down on the ground and accept a lesser status Disney direct to video sequel look, but it was a lot of fun. It was more of the same, including introducing the revolutionary technology that was brand new back in the late 1990's in a fashion that kids would understand. It almost makes me wish the series was more focused on that element more than anything, and that there would be a 4th Brave Little Toaster with characters such as talking Ipods and a rivalring Mac and PC.
Jackson Walsh
Super Reviewer
Brave Little Toaster to the Rescue Quotes
There are no approved quotes yet for this movie.