Breakfast with Scot
(2007)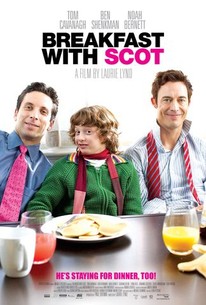 TOMATOMETER
AUDIENCE SCORE
Critic Consensus: Though Breakfast with Scot is a well-intentioned movie with some charming performances, it suffers from sitcom humor and predictable setups.
Breakfast with Scot Photos
Movie Info
Eric lives for all things hockey. Now in his thirties, he's managed to turn his stint as an ex- Toronto Maple Leaf into a full-time gig as commentator for sports TV. He's living the dream! But when Eric's boyfriend Sam announces that they're to become temporary guardians of a young boy, Eric's comfortable world shatters. Enter Scot--a recently orphaned, swishy 11-year-old sissy-of-a-boy--and Eric's mirror opposite. Freaked out by Scot's 'joie de vivre,' Eric and Sam gently nudge Scot away from scented hand cream and all things pink, towards a more "acceptable" pastime--hockey. But after Scot's disastrous first game, Eric begins to rethink the compromises he's made in his own life in order to be "accepted."
People Who Like this movie also like
Critic Reviews for Breakfast with Scot
Audience Reviews for Breakfast with Scot
Breakfast with Scot is not refreshing, quirky, comedic or, frankly good. From the get go, Tom Cavangh's Eric is entirely unlikeable while Ben Shenkman's Sam seems to stick with him "just because." There's no warmth between the two, which makes every single scene they occupy together painful to watch. In fact, there's aren't two characters in this entire film who have any kind of chemistry. Not brothers, not parent and child, not coworkers, no one. It's entirely too telling that Eric and Sam (indeed, everyone else in the film) refrains from touching one another until the last 10 minutes. Maybe there's a message there about how distant these people are, but the movie is so dense and concerned with trying to be high minded to figure it all out. I have nothing but disdain for this entire endeavor from beginning to end. Unrealistic, maddening and ultimately mindboggling. And I haven't even talked about the kid, his guardian or any of the myriad subplots the story throws at the viewer.
Jason Vargo
Super Reviewer
A cute story but so many situations seemed exaggerated and distracted from the heart of this movie.
Thomas Johnston
Super Reviewer
This is a sweet, if rather formulaic family comedy. The genuine laughs seem a little few and far-between, but I really liked the twist on functional nuclear family life, as well as the examination of gay identity. That is the only thing that makes this film special, really. The thing I liked most was the homosexual main character's hilarious worry that his lover's flamboyant nephew might "make him gay", in the paranoid, homophobic Republican sense. Very cute and heartwarming, but you've seen this before.
Emily Armstrong
Super Reviewer
Breakfast with Scot Quotes
There are no approved quotes yet for this movie.