The Brotherhood of Satan
(1971)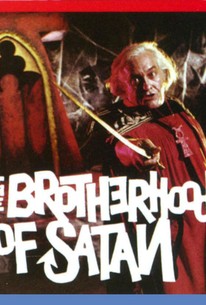 The Brotherhood of Satan Photos
Movie Info
A small town is plagued by a series of murders -- 26 in all! The village elders would like to call for help, but all links to the outside world have been severed. Can a local coven of witches and devil worshippers be responsible? Brotherhood of Satan was produced by character actors L.Q. Jones and Alvy Moore as sort of a warmup for their more celebrated A Boy and His Dog. Horror-film habitues Strother Martin and Ahna Capri are among the cast members.
Critic Reviews for The Brotherhood of Satan
Audience Reviews for The Brotherhood of Satan
A dreadful horror movie that seems completely incapable of being any scary, which can be blamed on how awfully edited and directed it is, with scenes that get stretched much beyond what we can take - and it does not help that the lame plot is so nonsensical.
Carlos Magalhães
Super Reviewer
"The Brotherhood of Satan" starts off really well, like Antonioni gone horror. Lots of silence and lengthy tracking shots about nothing, and the script perversely takes 20-25 minutes before any of the situation begins to make sense. But then the story turns into a fairly standard Satanic-coven flick, and is nothing to get excited about. If you made a pie chart for this film based on how much the actors get a chance to ham it up and flash their chops, it would be 98% for Strother Martin and 2% for everyone else. I didn't realize this until after the film was over, but the main little girl is played by Geri Reischl, who later became the "substitute Jan" when the Brady Bunch attempted their infamous musical-variety series. Surely, Satan played a role in getting that show on the air.
Eric Broome
Super Reviewer
The Brotherhood of Satan Quotes
There are no approved quotes yet for this movie.