The Brothers Bloom
(2009)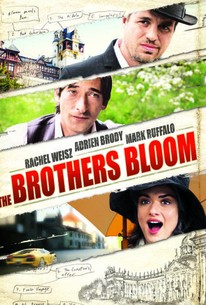 The Brothers Bloom Photos
Movie Info
When the younger of two notorious sibling con artists announces a plan to go legit, his brother implores him to carry out one last swindle in the eagerly anticipated sophomore feature from Brick writer/director Rian Johnson. Tired of a life on the run, a confidence man who has dedicated his life to the art of the grift decides to call it quits. Despite his plans to leave his criminal past behind, however, the reluctant scammer finds that his brother has masterminded one last scheme to claim the wealth of an eccentric millionaire (Rachel Weisz). With the opportunity to make enough money so that he would be able to live comfortably even if his legitimate endeavors fail, the heretofore unrepentant con man finds it increasingly difficult to refuse his sibling's potentially profitable endeavor. ~ Jason Buchanan, Rovi
People Who Like this movie also like
News & Interviews for The Brothers Bloom
Critic Reviews for The Brothers Bloom
Audience Reviews for The Brothers Bloom
½
A delightful, clever and whimsical comedy that boasts great performances by its entire cast and an amusing - if also forgettable - narrative with many scenes that bring to mind the humor seen in the films of Wes Anderson and the Coen brothers.
Carlos Magalhães
Super Reviewer
The Brothers Bloom is a film that is fairly average entertainment, a picture that had the potential of being a great movie, but comes up empty handed in the long run. I'm not saying that this is a bad film, quite on the contrary, but you do end up expecting more considering its interesting premise. I expected much more out of the film, and considering that the film was made by director Rian Johnson who would later helm the incredible Sci Fi action film Looper. Here he makes a good film that leaves a lot to be desired by the time the film concludes, and at times, the story could have been polished and there are things that could definitely have been improved upon. To me, it feels like the film managed to deliver and entertaining ride, but its potential is wasted on a script that could have been perfected a bit more before being made. I expected so much from this film, and it was a bit of a letdown. The Brothers Bloom isn't bad, like I said, but it should been much better as well considering the talent involved in the project. The Brothers Bloom is entertaining for what it manages to do, but by the times the credit, you definitely feel that something's missing to make this a film worth revisiting. Luckily director Rian Johnson has made a much better follow-up and with that being said, Johnson is a skilled filmmaker, but here he really should have focused on developing the script a bit more to make a truly memorable film. The Brothers Bloom had its heart at the right place, but for genre fans, they might want a much better film than this, and your expectations for this one should to enjoy something good, but definitely not great, and you might like it. I did like the film, but it should have been better.
½
This was my first exposure to the work of Rian Johnson, and I really wasn't sure what to expect going into it. As a general rule, I usually like caper and con films. They're not my favorite, but every now and then I like a film where there's lots of twists and turns, and quirky usually is a good thing too. I think this is quite decent, though perhaps a bit too smug. What we get is the story of two con artist brothers, and their escapades. When the younger decides to go legit, the older persuades him into one last con, which, as we all know, usually doesn't work out as planned. I really enjoyed the acting, and the costumes and set design were also fantastic. The music was nice too. Even though this film isn't bad, it's not really the greatest piece of work either. I can't quite explain or really describe its shortcomings though. There's just something about it that I can't put my finger on, but recognize it as being good, but slight. I still think you should see it though, at least once, as it does have some good stuff going for it while it lasts.
Chris Weber
Super Reviewer
The Brothers Bloom Quotes
| | |
| --- | --- |
| Stephen: | Real sunsets might be beautiful, but they turn into dark uncertain nights. |
| | |
| --- | --- |
| Penelope: | Trick to not feeling cheated is to learn how to cheat. |
| | |
| --- | --- |
| Penelope: | Photograph is a secret about a secret. More it tells you, less you know. |