Bully
(2012)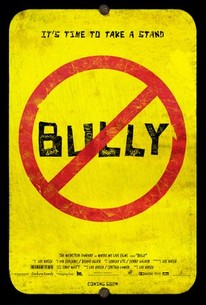 TOMATOMETER
AUDIENCE SCORE
Critic Consensus: Hard-hitting and gracefully filmed, Bully powerfully delivers an essential message to an audience that may not be able to see it.
Movie Info
Directed by Sundance and Emmy-award winning filmmaker, Lee Hirsch, Bully is a beautifully cinematic, character-driven documentary. At its heart are those with huge stakes in this issue whose stories each represent a different facet of America's bullying crisis. Bully follows five kids and families over the course of a school year. Stories include two families who have lost children to suicide and a mother awaiting the fate of her 14-year-old daughter who has been incarcerated after bringing a gun on her school bus. With an intimate glimpse into homes, classrooms, cafeterias and principals' offices, the film offers insight into the often cruel world of the lives of bullied children. -- (C) Weinstein
News & Interviews for Bully
Audience Reviews for Bully
½
One of the more corrosive deterrents to America's education system has to be bullying, which has becoming an increasingly dangerous public mental health issue in the past twenty years. With the innumerable teen suicides, the school shootings, and outcries from parental groups as well as the cyber sphere, bullying is in the forefront of everyone's mind, and yet causes more harm than adults can even imagine. For those of us who have been part of the bullied masses at some point in our lives, we know the toll that it takes, and the scars it leaves, and that's the main focus of this documentary. It deals precisely with how bullying makes a child feel, how irreparable the damage is to that child, and the oftentimes horrific steps they take in alleviating their pain. Filmmaker Lee Hirsch follows several children who have or are experiencing bullying, to a point where it makes them deeply depressed. One child has already taken his life, and the film follows his family's struggles with taking on the school board, another girl is facing felony charges after taking a weapon on a school bus to stop her tormentors, and another still faces the daily terrors of riding a school bus filled with physically and emotionally abusive bullies. These children, still so innocent at their age, are being made to grow up rather quickly, and without warrant. This Hirsch shows in-depth, just by interviewing them and showing their daily toils. Every scene is powerful, every instance of self-defense is shown as prey rising against its predator, and every child is shown love. I'll admit I even cried, and it's hard not to cry while writing this review as well. That's simply how powerful the message is. The last section of the film does meander as it tries to wrap up all the stories, and there isn't any input from the bullies themselves, but this film does show the lack of intervention of adults and lack of safeguards against these very public problems. This film is important for everyone to see, because it's not just the "weird" kids at risk, it's the helpless.
Spencer S.
Super Reviewer
½
An important doc focusing on an enraging matter that has always been a very serious problem in schools. Still, it could have been better edited to have those five stories put together - and after a while it even starts to become a bit redundant and repetitious.
Carlos Magalhães
Super Reviewer
This film should be mandatory viewing for not only kids in the age group where bullying is prevalent, but EVERYONE ELSE involved or uninformed about just how emotionally wrenching it can be for the victims. Bully features 5 stories of kids who were bullied for different reasons, from being a "nerd" to openly gay, and a couple of the victims even committed suicide because they simply could not take it anymore. The parents, schoolteachers, police, and any other adult responsible for someone else's children are absolutely clueless to the situations and think there's no real problem, it's just "kids being kids". Their ignorance and lack of tolerance for what happens while they are in control of these kids is infuriating and sometimes mind-blowing. I could not believe how stupid some of them truly are. How did they even get a job as an assistant principal if they cannot properly handle these situations? The filmmakers give an unflinching look at how bullying effects more than just the victims and it just makes you want to get up an help in any way you can. As someone who was bullied (although not nearly as extensive as these kids), I can completely relate to this film. Even if you don't relate, its plea to take a deeper look is unwavering. If there is one complaint, it's that the film kind of makes you think there really aren't any answers to some of the situations, but there definitely always is a solution. Despite this minor complaint, Bully is a film I will push on anyone I can, and it should be shown in classrooms around the world as mandatory viewing.
Josh Lewis
Super Reviewer
Bully Quotes
| | |
| --- | --- |
| Kim Lockwood: | Tell me how to fix this. |
| | |
| --- | --- |
| Alex Libby: | They push me so hard that...that I wanna become the bully. |
| | |
| --- | --- |
| Alex Libby: | I like learning, but, I just have trouble making friends. |
| | |
| --- | --- |
| Kim Lockwood: | So by not shaking his hand you're just like him. |