Burden of Dreams
(1982)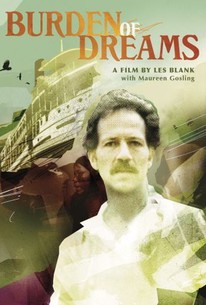 Movie Info
Documentary filmmaker Les Blank followed director Werner Herzog around during the stormy production of Herzog's Fitzcarraldo. The result was Blank's Burden of Dreams, which many reviewers found more fascinating than Herzog's effort. Lensed in Peru, Fitzcarraldo was the story of a single-minded man obsessed with the notion of introducing opera to the jungles of the Amazon. Les Blank's basic premise, that Werner Herzog became as obsessed as his central character, needs no underlining. This, however, does not prevent Blank from ladling on his thesis with a trowel at several junctures.
Critic Reviews for Burden of Dreams
Audience Reviews for Burden of Dreams
½
There are a number of movies that people who think they want to make movies should see beforehand, and this one just might be the epitome of that. Werner Herzog is, hands down, the most fascinating film director of all time. He just has all these qualities that elevate him, and subsequently his movies, into another realm. When he decided to make the highly ambitious film Fitzcarraldo, he also had it in mind to have Les Blank join him to film a making-of documenatry chronicling the film's shoot. And the results are absolutely fantastic. There have been other movies about troubled film shoots, such as Hearts of Darkness about Apocalypse Now, or even American Movie, but they all seem to pale in comparison to this one, maybe just because of how difficult and troubled Fitzcarraldo's shoot was. There was the problem of nature, logistics (such as doing everything practically, namely hauling a massive steamship over a mountain), countless delays, dealing with tons of Natives, dealing with geographical issues like red tape and potential civil wars, Herzog trying to deal with the force of nature that was the brilliant but difficult Klaus Kinski (this specific struggle mainly being addressed in the deleted scenes, which were actually taken from Herzog's documentary My Best Fiend), and the director's own massive ego, arrogance, determination, and increasing madness and cynicism. It's not always flattering, but it's never sensationalist, either. It is simply showing things as they happened. Yeah, it's not always easy to watch, but it's so absorbing that it is hard not to. I especially love the unsubtle way that life reflects art/art reflects life, and the parallels with Herzog's real struggles being one in the same as the lead character's struggles. If you ever wanted insight as to the sort of questions that can be raised concerning how far is to far when going for greatness and art, then you really must see this film. Or, if you just want to see the ultimate making-of document extended to feature length, then here you go.
Chris Weber
Super Reviewer
Plenty of documentaries are made about the art of filmmaking, but very few capture the drive/lunacy it sometimes takes to realize a vision like Burden of Dreams. Les Blank's film, in my opinion, does a better job of portraying the insanity and spirit of Fitzcarraldo than the eponymous film itself. The similarities between the character Fitzcarraldo and Herzog himself are endless. Despite Blank's poetic filming of the amazon jungle, despite all of the conflicts the cast and natives encounter, and despite the documentary footage displayed, the heart of this film is the essence of cinema. This movie is about film-making and the art of it; its passion, its plight, its entirety. Herzog closes the film by stating, "It's not only my dreams, it's my belief that they are yours as well, and the only distinction between me and you is that I can articulate. And that is what poetry or literature or film-making is all about. it's as simple as that. I make films because I have not learned anything else. And I know I can do it to a certain degree. and it is my duty, because this might be the inner chronicle of what we are, and we have to articulate ourselves, otherwise we would be cows in the field." If you really let those words sink in, you truly begin to understand this man, this film, and really, cinema itself. PS: If I ever make a tribute to the bat shit crazy Werner Herzog, I will definitely call it "Overwhelming Fornication."
Jonathan Hutchings
Super Reviewer
½
I am not fully on the Herzog train but I certainly admire his drive. And by drive, I mean his lunacy of course. I had always heard that Kinski was crazy, but just listening to Herzog's words and how he pushes on in the face of every momentous setback really showed me that Herzog may be just as mad. This film documents not only the tumultuous production of his most famous film Fitzcarraldo, but also offers a look at how Herzog channels his madness into pursuing his dreams. It drags in some areas, but overall pretty fascinating for anyone interested in the man, the myth, the legend, Werner Herzog.
Burden of Dreams Quotes
There are no approved quotes yet for this movie.