Burt's Buzz
(2014)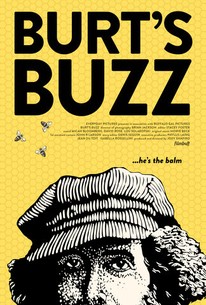 Movie Info
BURT'S BUZZ takes an intimate look at the world of Burt Shavitz, the face and co-founder of Burt's Bees, exploring his fascinating and unique life. Wise and wry, ornery and opinionated, the reclusive Shavitz is committed to living off the land and keeping true to his humble beginnings despite his celebrity status. The film chronicles Burt's life as a photographer, beekeeper, and brand spokesman, following his complicated relationship with the company, his fans, and the world around him. Exposing the collision between business and personal values, "Burt's Buzz" is a compelling and fascinating portrait of this highly idiosyncratic pioneer, and a revealing study of what it means to be a living icon. (C) FilmBuff
Critic Reviews for Burt's Buzz
Audience Reviews for Burt's Buzz
½
While documentaries with a sole subject are always entertaining, director Shapiro doesn't quite know what he's asking us to take away from this film. Burt is of course an eccentric and entertaining character but most of what we see of him is verbose monologuing and dramatic long takes of him completing tasks, as if all the meaning we need comes from his lone figure against the backdrop of a bee hive. I didn't even know the motivating factor in this documentary until more than half of it was over. I think this would have been better as a short subject, or if we didn't spend all our time with Burt, listening to his trivial thoughts on subjects that have nothing to do with the business. His tether to the company he started, and the woman who took advantage of his lack of drive, was a much more interesting subject than just him as a person. While his life, choices, and history are of course interesting, we don't need to hear him spout off about random things that catch his whimsy for an agonizing amount of time.
Spencer S.
Super Reviewer
Burt's Buzz Quotes
There are no approved quotes yet for this movie.
Discussion Forum
Discuss Burt's Buzz on our Movie forum!