Cabeza de Vaca
(1991)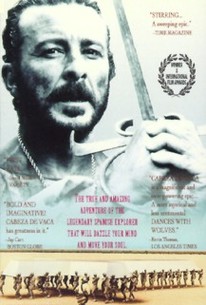 AUDIENCE SCORE
Critic Consensus: No consensus yet.
Movie Info
With little dialog and exquisite, almost documentary-like images, Cabeza de Vaca offers a fascinating (if not mystical and at times just plain puzzling) foray back to early 16th-century America as it chronicles the exploits of the explorer Alvar Nunez Cabeza de Vaca as he spends eight years traversing the wild lands surrounding the Gulf of Mexico. The story itself is based on the book Naufragio, Cabeza de Vaca's personal account. Cabeza de Vaca was the ship's treasurer on an ill-fated expedition to America. Marooned on the densely jungled Florida coast he becomes the unwilling guest of the Iguase Indians (for added realism and to help audiences understand how Cabeza de Vaca felt, the Native speech is not translated). He is enslaved and much of the story centers on his coming to grips with his strange new life and the people around him. Eventually he is taken to a powerful Iguase shaman who teaches him the healing arts, skills he is able to put to amazing use during his amazing journey.
Critic Reviews for Cabeza de Vaca
All Critics (1) | Fresh (1) | Rotten (0)
Actor Juan Diego falls into every ditch in Texas, moos at the sky, and gets bitten by angry critters. By the time the pic ends, we feel as if we've traveled every step of the way with him.
Audience Reviews for Cabeza de Vaca
This film chronicles the true story of Cabeza de Vaca, a Spanish explorer circa 1528 who was shipwrecked in Florida and was forced to live among the natives, where he slowly learned to respect their way of life. I?d been reading about this guy lately, and I decided to track down this fairly obscure movie at my library as it?s not available on DVD. It is a fairly gritty production, you can really just feel the suffering in the environment. The production values are competent, but not up to Hollywood standards. The acting is not great, the man playing de Vaca overacts? a lot. Still this is an interesting story, and while the movie isn?t a great work of art, it does what it sets out to do respectably well.
Cabeza de Vaca Quotes
There are no approved quotes yet for this movie.