Café Lumiere
(2004)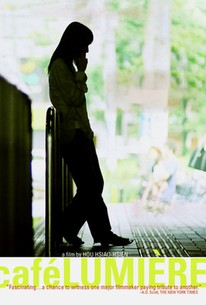 Movie Info
A freelance writer living in Tokyo defies social taboo by choosing life as a single mother in director Hou Hsiao-Hsien's meditative tribute to acclaimed Japanese filmmaker Yasujiro Ozu. When Yoko announces that she is pregnant and has no intentions of marrying the father of her child, her traditional family is outraged. Though the headstrong decision made by the young mother-to-be leaves her finding little sympathy from within her family circle, a blossoming friendship with the owner of a local second-hand bookstore goes a long way in alleviating Yoko's feelings of loneliness. As Yoko begins to re-evaluate her increasingly complicated life, her newfound friend silently pines for her despite his frustrating inability to vocalize his true feelings. ~ Jason Buchanan, Rovi
Critic Reviews for Café Lumiere
Audience Reviews for Café Lumiere
Very subtle. Not a lot of story at all. Moves along very slowly, but I liked the day to day life in Tokyo.
Nicki Marie
Super Reviewer
Hou's moody tribute to Ozu is more revealing and significant from what is left unsaid as it shows a woman in transit (she spends a good part of the film on moving trains) and who never discusses her pregnancy with her traditional parents. Still, it left me a bit too cold to care.
Carlos Magalhães
Super Reviewer
½
In "Cafe Lumiere," Yoko(Yo Hitito) spends much of her time between Taiwan where she is researching a famous composer and Tokyo where she hangs out with Hajime(Tadanobu Asano) who sells books and records the sounds of trains. Her carefree life comes to an end when she finds out she is pregnant by her Taiwan boyfriend. And that's pretty much it for any kind of story as director Hou Hsiao-hsien turns Tokyo into one giant model train set. As the trains go in circles, so does the plot. He does this in order to comment on the rootlessness of youth, as none of the characters can stay in any one place for long. And not that it matters any, but this is the second time in a week that I have seen a movie dedicated to Yasujiro Ozu that concentrates on train travel which is odd considering Ozu was the master of the domestic drama.
Café Lumiere Quotes
There are no approved quotes yet for this movie.