Bab el hadid (Cairo Station) (The Iron Gate)
(1958)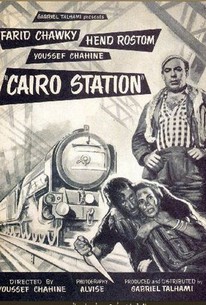 Bab el hadid (Cairo Station) (The Iron Gate) Photos
Movie Info
Youssef Chahine directs and stars in this bittersweet, neo-realist drama about a crippled newspaper vendor who falls for a gorgeous lemonade seller. Qinawi (Chahine) is in love with Hanouma (Hind Rostom). But Hanouma is engaged to rugged station worker Abu-Serih (Farid Chawqi). As Abu-Serih attempts to unionize the station workers, Qinawi's fixation on Hanouma crosses the threshold from innocent crush to dangerous obsession.
Critic Reviews for Bab el hadid (Cairo Station) (The Iron Gate)
Audience Reviews for Bab el hadid (Cairo Station) (The Iron Gate)
½
At a train station in Cairo, Madbouli runs a newspaper stand where he takes pity on Qinawi(Youssef Chahine, who also directs), who is handicapped, and gives him a job. On a personal level, he is shocked to discover that Qinawi may have a subscription to Playboy before anybody else on the block. In truth, Qinawi only has eyes for Hanouma(Hind Rostom), a flirtatious seller of illegal drinks, who in return leaves her evidence with Qinawi when she is being chased by the authorities. In truth, she is getting married to Abu Serih, a porter, who is also tryng to unionize the station. "Cairo Station" successfully uses a bustling train station as a model for the rest of Egypt which at this point in history is rapidly going through changes with many innovations being introduced like roll and roll and even feminism in the person of Women against Marriage. Working in contradictions is Abu Serih who treats Hanouma roughly but cares for the welfare of his fellow man. The only one without any ideas of his own is Qinawi and this is his tragedy. So, it is a shame that this briskly paced movie eventually turns into just another garden variety psychothriller.
Bab el hadid (Cairo Station) (The Iron Gate) Quotes
There are no approved quotes yet for this movie.