Cambridge Spies
(2003)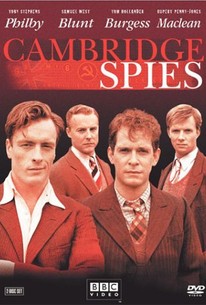 AUDIENCE SCORE
Critic Consensus: No consensus yet.
Movie Info
Harold "Kim" Philby, Anthony Blunt, Guy Burgess, and Donald Maclean were four bright, intelligent, and ambitious young men who attended Cambridge University in the early '30s. They all seemed to have promising futures ahead of them and, indeed, all four distinguished themselves in their careers. Burgess and Maclean became respected diplomats, Philby rose to be a senior officer in British intelligence, and Blunt was a well-known art historian. But the four men shared a secret -- certain that Great Britain would fall during the Second World War, and equally convinced that Russia held the world's best and only hope of defeating the Nazi juggernaut, the students became secret agents for the KGB, the Soviet Union's intelligence force, and the former schoolmates worked together as agents for the U.S.S.R. well into the height of the Cold War -- until they were discovered in 1963. Cambridge Spies is a made-for-TV drama produced by the BBC which dramatizes the true story of these unlikely secret agents, exploring how they worked together, and what finally brought their secret lives into the spotlight. It stars Samuel West as Blunt, Toby Stephens as Philby, Tom Hollander as Burgess, and Rupert Penry-Jones as Maclean. ~ Mark Deming, Rovi
Critic Reviews for Cambridge Spies
There are no critic reviews yet for Cambridge Spies. Keep checking Rotten Tomatoes for updates!
Audience Reviews for Cambridge Spies
A great drama from the BBC. It's not historically accuarate and it's dubious that the four Cambridge lads are portrayed in such a heroic light but the acting, especially from Hollander, is excellent and the whole things feels nicely paced.
David Sayers
Super Reviewer
I know, my darlings, I know. It's been days. I've been having computer problems. And beware, because I can't guarantee I'll write anything at all when Graham's home. We've had the prequel to this story before, if you want to look at it that way. [i]Another Country[/i], it was. That was a pre-treason Guy Burgess. (Who essentially died of homesickness, this version tells us. Drank himself to death.) This version starts where the other left off, and it takes us through the defection of most of the group. This is the story of five Cambridge Communists who ended up becoming double agents for the Soviet Union. We have Guy Burgess again, just as we did in [i]Another Country[/i]. "Tommy Judd," the Colin Firth character, dies early on in Spain. It is, so far as I know, unknown exactly how much these men passed on to the Soviets--certainly the film isn't saying--but it's reasonably sure that they gave away quite a lot. I can almost see why they felt they needed to spy for the Soviets. Almost. They were opposed to Hitler. This, in and of itself, was a good thing. It's hardly a controversial opinion now to say that Hitler was a [i]bad man[/i]. These boys--and they were boys, when they made these decisions; none of them had really had to be responsible before--felt that giving information to the Soviets would help fight Hitler. And I guess that, from there, they couldn't stop. However, it is now well-documented that Stalin was a [i]bad man[/i] as well, and a clear mind at the time ought to have noticed it, too. Stalinist Communism is not at all the same as Marxism. Was not, I suppose I ought to say; no one's a Stalinist anymore. For one thing, starving millions of one's own people is hardly popular these days. This ended up destroying so many lives. I wonder what the Queen Mother (played here by the always-wonderul Imelda Staunton, and I'm really looking forward to her Professor Umbridge) thought when Blunt--her third cousin, I believe--confessed. Or if they told her at all at the time, which would mean she wouldn't have learned until the 1970s. And Blunt himself, who was stripped of his knighthood in 1979, was probably the least-active of the five. He could pass on Windsor family gossip, probably, and he definitely pass on messages during the war, but he certainly didn't feel the need to defect with the others. And I have a fondness for the actor playing him, Samuel West, who was in [i]Stiff Upper Lips[/i], a film I'll no doubt get to another day.
Edith Nelson
Cambridge Spies Quotes
There are no approved quotes yet for this movie.
Discussion Forum
Discuss Cambridge Spies on our Movie forum!