Camera Buff
(1980)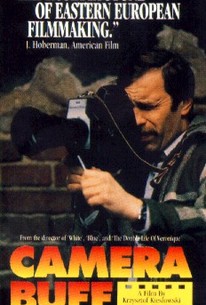 Movie Info
In this political satire from Poland, Jerzy Stuhr plays Filip, a factory worker who, after the birth of his first child, buys an 8mm movie camera to record his daughter's first few years on film. Before long, Filip is happily obsessed with his new hobby, and he graduates from simply capturing his daughter's activities to photographing practically everything around him. His movie mania attracts the attentions of his boss, who gives him a new task: making films that will give outsiders a clearer picture of how things work at their factory. However, Filip's ceaseless photography begins to drive his wife (Malgorzata Zabkowska) crazy, and she threatens to leave him, while his boss is not at all happy with Filip's films. They're quite good, earning television broadcast time and winning awards, but their messages don't conform with his party's political and economic agenda, and Filip is warned to soften the tone of his work or he'll lose his job. This dark comedy from director Krzysztof Kieslowski was released in the United States under the title Camera Buff.
Critic Reviews for Camera Buff
Audience Reviews for Camera Buff
½
First, a warning: "Camera Buff" has nowhere near the stylized atmosphere of later Krzysztof Kieslowski films such as "Red," "Blue" and "The Double Life of Veronique." Kieslowski's first feature is about overcast mornings, gray walls and functionally lit rooms, and the musical score barely exists. The cast is almost as colorless. "Camera Buff" can be classified as a satire, but it's too bleak to have any real laughs. Filip Mosz is a vulnerable man with a dull factory job and a habit of hiccupping when nervous. His wife is about to give birth. To document his child's life, he splurges on a film camera. Then his boss hears of the purchase and hires him to shoot the plant's upcoming anniversary celebration -- even though Filip is an obvious novice (the film's Polish title strictly translates as "Amateur"). Complications escalate from there. His movie (which is not portrayed as anything impressive) is shown at a small festival and inspires further projects. But as his footage begins to show too much grim reality, the local Communist Party develops concerns and his boss presses him to make edits. Since the boss helps fund him, these objections can't be brushed off. Meanwhile, Filip's risky new obsession increasingly exasperates his wife and may ruin their relationship. The film is a bit overlong and has a slow middle, but the last act packs a powerful message. This includes an unexpectedly touching moment with a handicapped man seeing himself on television -- there is nothing so sentimental elsewhere in the story, and the emotional tug comes purely from the look in the actor's eyes. Beautiful work. And the final scene is perfection. Director (and Kieslowski colleague) Krzysztof Zanussi makes a short appearance as himself, inserting some philosophy about filmmaking ethics during a presumably unscripted symposium. The line between drama and documentary blurs here. "Camera Buff" takes aim at both Communist bureaucracy and the new-sensation hype that dependably drives the movie industry. "A film director once joked that he was a civil servant," a TV executive tells Filip. "Actually, he was right."
Eric Broome
Super Reviewer
What a fantastic film about the artist's journey and the desire for something more than mere "tranquility." While this is my first Kieslowski film, this seemed to be a good place to start as it illuminates Kieslowski's own passion and perfectly encompasses the power & consequences of film. While I would have liked to see more about the effects on the protagonists home life, it is none the less a powerful film. I am very excited to check out the rest of the director's work.
Remarkably insightful film by Kieslowski on film making, family and the affect art has on the world.
Ken Stachnik
Super Reviewer
Camera Buff Quotes
There are no approved quotes yet for this movie.