Camp 14: Total Control Zone
(2012)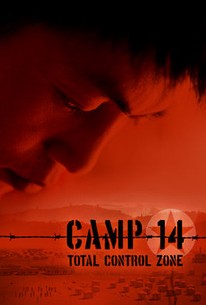 Movie Info
This is the powerful story of Shin Dong-hyuk who was born as a political prisoner in a death camp in North-Korea. From the age of six, he was subjected to forced labour, hunger, beatings and torture. He was always at the mercy of the wardens, and knew nothing of the world outside the barbed-wire fences. He thought everybody lived that way. With the help of an older prisoner, he succeeded in escaping at the age of 23 and encountered a world completely strange to him.
Critic Reviews for Camp 14: Total Control Zone
Audience Reviews for Camp 14: Total Control Zone
Powerful and well told account of one man's life in and escape from a labour camp in North Korea.
Daniel Parsons
Super Reviewer
North Korea is infamous for numerous reasons. One of those reasons is severe human rights violations. This is the astounding story of Shin Dong -hyuk, a prisoner in Camp 14 who successfully escaped. Throughout his ordeal, he has witnessed executions, been beaten, tortured, maimed, snitched and betrayed his friends and mother and brother. Those were the rules. The inmates were forced to do this in order to survive. This is an astounding film that has the power to make you think and it is an eye opening affair that should not be missed. Some people have criticized the editing and pacing, but this isn't a documentary like any other. When you hear Hyuk's story, you're captivated and in awe and how he could survive such brutality. The book Escape from Camp 14 is also wonderful and is a true testament to the survival of the human spirit. Although hard to watch, it is a necessary viewing in order to raise awareness to this important issue. I believe that this is one of the most important documents that have ever been made. This is a well thought out film and also you definitely shouldn't miss out on this one. Like I said, this is a standout film that is worth seeing.
Camp 14: Total Control Zone Quotes
There are no approved quotes yet for this movie.