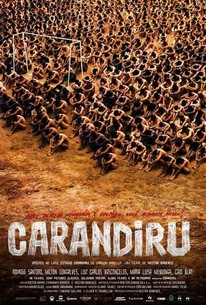 Carandiru
2003, Drama/Crime, 2h 28m
81 Reviews
5,000+ Ratings
Rate And Review
Movie Info
A doctor (Luiz Carlos Vasconcelos) listens to inmates' stories as he tests them for HIV in a dangerously overcrowded Brazilian prison.
Audience Reviews for Carandiru
A breathtaking film, that talk about prisoners with AIDS, life in prison, prejudice and homosexuality. All seen by the doctor Drauzio Varella. A true story based on the book Estação Carandiru. Shocking!

It may be interesting as a collection of chronicles about life in a Brazilian prison, but sadly this is a frustratingly superficial and simplistic film that doesn't discuss the actual causes of the revolt that led to the Carandiru massacre, being also uneven and full of awful talking heads.

Damon Runyon-ish. A collection of stories about the charactrs in a Brazillian prison. building up to a violent riot.

This is worth all 2 hours and 28 Minutes of your time. The best movie I've seen in a while and one of the top's when it comes to English Subtitles. This movie is in Portuguese Language so you will have to follow along the subtitles if your knowledge of that language is as limited as mind. This is a collection of life?s in a prison in Brazil, thru the life of a doctor from that prison. This movie should be watched by everyone that?s in a jail or prison in the US, just to see how good you have it here. This movie kept me glued to the screen. I have no idea how this movie got on my list, where I read the review or saw the preview, but I am glad I did. Its a must see and outstanding movie, NOT A DOCUMENTRY, a good movie. 5 stars and I haven't given that out in a while.
See Details