Il Cartaio (The Card Player)
(2004)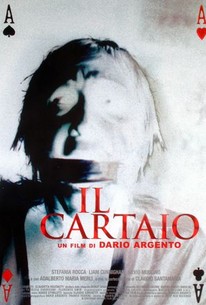 Il Cartaio (The Card Player) Photos
Movie Info
A serial killer with a knack for video poker and a taste for blood taunts a determined policewoman in director Dario Argento's attempt to bring the traditional giallo into the digital age. Detective Anna Mari (Stefania Rocca) is sitting at her desk when a message from an anonymous online gambler bearing the moniker "The Card Player" invites her to join a game of video poker. When the game screen loads, Mari is horrified to learn that the stakes of the game are higher than she ever could have imagined, as an unidentified female in an over-pixilated web-cam window screams for her life. Though the chief initially refuses to take part in the killer's horrifying game, the death of the innocent victim leads Mari to seek more unconventional means of tracking the murderous gambler. As the killer continues to taunt police, British policeman John Brennan (Liam Cunningham) is brought in to help solve the case. When the killer ups the ante by kidnapping the police chief's daughter, it's only a matter of time before the killer and Mari herself are locked in a pulse-pounding, life-or-death game in which anyone could hold the winning hand.
Critic Reviews for Il Cartaio (The Card Player)
Audience Reviews for Il Cartaio (The Card Player)
½
Dario Argento has crafted some of the most memorable horror films in the genres history. However he has lost his touch starting in the mid 90's. The Card Player may have been a great concept on paper, but on-screen it fails to deliver anything truly entertaining. This film fails to deliver what Argento's classic films did so well back in the day. This is a dull affair with poor acting, directing and storytelling. The film simply doesn't have that spark that made Argento's work memorable. This film is just bad and will disappoint the diehard Argento fan. I've been a fan of his for a while now, and I had heard mixed things about The Card Player. However this was a big letdown and it shows signs of a director that is quickly running out of ideas. I think it's a shame because Argento is one of the legends of horror, but this one just fails on every level. If the script would have been reworked and the cast better chosen, maybe this film would have had a chance, but as it stands, The Card Player is just another run of the mill Giallo with 21st Century elements to make it more interesting for today's audience, but in doing so has no substance to its concept. Well, it's bad, and if you love old school Argento movies, don't watch this one as all his trademark elements are nonexistent. I think it's a shame because this film could have been great, but this is just a boring movie with poor buildup, a bad cast and awful storyline that could have been reworked many times to make this a worthwhile Giallo that ranks up there with some of Argento's best. Unfortunately it's a forgettable film not worth your time.
The concept is very interesting with this one and the kills are good. The love story, however, dragged the film down and made it too conventional.
Matt Penney
Super Reviewer
Cyber-thriller about a thrill-seeking killer who kidnaps women and then lures the police into a game of online poker to play for the lives of the victims. This one misses the mark, which is a shame because the plot has pontential but it was nowhere near as suspenseful as it could have been. Acting all-round is quite poor except for Liam Cunningham who livens things up whenever he's on screen. Music was cheap techno-garbage which does nothing to add to the tension. Gone is the style and clever camera work that Argento employed in his 70s and 80s films. A real let-down... probably the directors worse film to date.
Il Cartaio (The Card Player) Quotes
There are no approved quotes yet for this movie.