Caterpillar
(2011)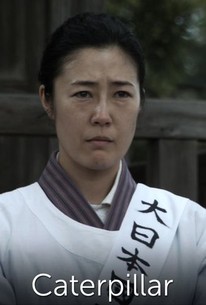 Movie Info
Taking place during the Second Sino-Japanese War and based on a banned short story by writer Edogawa Rampo, Wakamatsu's latest film is both a powerful indictment of right-wing militarist-nationalism and a deeply affecting reminder of the pressures put on Japanese women during war and peacetime. Part of a series of works that re-visit the country's fascist past, Caterpillar satirically deploys Japanese propaganda and successfully demystifies the glorification of the country's wartime past. -- (C) Lorber
News & Interviews for Caterpillar
Critic Reviews for Caterpillar
Audience Reviews for Caterpillar
In "Caterpillar," the good news is that Kyuzo(Shima Ohnishi) returns alive from the war and a hero to boot. The bad news is he is not exactly in one piece, with all of his limbs having been amputated and communication with other people at best rudimentary. After his wife Shigeko(Shinobu Terajima) calms down sufficiently enough, she considers putting him out of his misery but then thinks twice about it, settling down into the routine of taking care of him for the long haul which also includes an itch he needs to scratch... To its credit, "Caterpillar" is not just an empty provocation, as it is very much anti-war, and not just in the ironic way it uses music. The first time we see Kyuzo is when he is raping a Chinese woman which makes him a war criminal more than anything else. That alone questions what the entire Japanese war effort was all about. Or maybe karma can just be incredibly nasty. In any case, all of which is established very early on which leaves the movie, as repetitive as it is and as shoddy as the production is, little room to go anywhere, except to explore the evolving power structure of the couple which has its moments.
½
A village woman is forced to care for her invalid husband when the Emperor declares him a "Living War God" after he loses all four limbs and his ability to talk in the Second Sino-Japanese war. A bizarre premise sparks this intense drama about duty; it's minimally exploitative, but there IS plenty of caterpillar/wife sex.
½
The complex relation between a devoted wife and amputee husband is explored to it's most raw levels by Mr Wakamatsu. She is more than just the devoted pasive housewife, and he's more than just another guy who fought in the war. You could accuse Wakamatsu of being too blunt with the anti-nationalistic message, showing the blind loyalty of the towns people over and over, along with the images of the medals, the propaganda in the news about Japan winning the war and so on. The real meat and juice of the story is in the relation between the two main characters, both actors giving fantastic performances, becoming the foundation of the film.
Tsubaki Sanjuro
Super Reviewer
Caterpillar Quotes
There are no approved quotes yet for this movie.