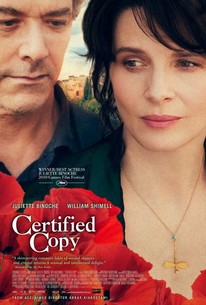 Certified Copy
2010, Drama/Romance, 1h 46m
136 Reviews
5,000+ Ratings
What to know
Critics Consensus
The main stars are absolutely perfect in this absorbing, existential drama that dissects human relationships. Read critic reviews
Where to watch
Rent/buy
Rent/buy
Rate And Review
Movie Info
While touring Tuscany, Italy, promoting his new book, English author James (William Shimell) meets French store owner Elle (Juliette Binoche), and the two hit it off, deciding to spend a free day together. They travel to a nearby town, get coffee, visit a museum and pretend to be recently married in what turns out to be a popular wedding destination. As these two strangers get to know each other, however, it becomes clear there's more to their new relationship than meets the eye.
News & Interviews for Certified Copy
Audience Reviews for Certified Copy
Certified Copy is cynical and postmodern and may be true to the reality of some. The style of the performance is a kind of anguished improv (which is certainly different). But the product is not very true to the trailer, and those wanting to watch a positive and romantic film may find Certified Copy disappointing. I would have classed it as a drama, and may have enjoyed it more if I had different expectations, but did not dislike it.

A relationship is something difficult to explore in films, given that it is already difficult enough to experience it. With a Linklater formula, but still with brief personal stamps regarding his love for the rural landscapes that gave him his <i>origin</i>, Kiarostami places two souls which drastically contrast personalities create conflict. <i>Copie Conforme</i> has an innovatory approach. We spend an entire day gathering clues about the characters' backgrounds, yet we are kept emotionally distant from them because Kiarostami's statement about the originality of art is transmitted through and reflected in human relationships. He is concerned with contemplating the present state of things while reflecting on a past which is kept intentionally unclear. In that way, we adopt James Miller's perspective, a man whose ideas about art, love and perception are as false as a copy. But wait! What is a copy? A copy is not a replica. A copy tries to be a replica. It sometimes succeeds, and it sometimes doesn't. In that way, we are constantly original beings, because even though we had an "origin", such origin (cultural, geographical, psychological, even patriotic) is merely attached to personal subjectivity. We are renovated very infinitesimal fraction of time. So, is a person a copy of his past? Yes, and in that process, it is not original. Therefore, we are a living contradiction: we are original beings while being unoriginal copies of our past selves. We conclude that being original is also a matter of opinion and perspective, and therefore, originality does not exist (excuse my Aristotelian approach). The problem comes when we expect that the entire Universe should circle around our preconceived notions and agree with our statements. My opinion is: God bless perception variety. Let's keep away as far as possible from an homogenous Aldous Huxley society. The true art of love, however, relies on killing a part of yourself, of your heart and soul, and giving it back to your couple so that he/she renews it, and both can become one. Otherwise, we will remain as arrogant reflections of our so-called "origins". 82/100

"Cerified Copy" is quite simply a walk and talk movie.(Since this is also an Abbas Kiarostami movie, there is also a car involved. Which is about the only innovation he brings to the table here.) And there's nothing wrong with that but this only works if you have something to say. Well, James Miller(William Shimell) thinks he might, considering he has just written a book about copies. He tries to express his ideas to an unnamed French woman(Juliette Binoche) who is an antique dealer living in Italy with her teenaged son(Adrian Moore). As mismatched as their chemistry is, they give a go at pretending to be a copy of other marriages, after a waitress makes the stereotypical presumption about their being married. But still, little is known about the man and woman's true relationship, giving the story such as it is little firm ground to stand on, in this movie which is nowhere near as clever as it thinks it is and also a meager copy of far superior movies.

I'm embarrassed to admit it, but "Certified Copy" is the first Abbas Kiarostami film I've seen. During the 1990s, when Kiarostami's reputation was growing, I was not that focused on international high-art cinema. I didn't start paying careful attention to the Cannes Film Festival, for example, until about 10 years ago. Cannes played a central role in expanding Kiarostami's audience beyond Iran, where he lives and works. His film "Taste of Cherry" won top prize at Cannes in 1997. "Certified Copy" has a number of intriguing elements, but I don't think too many would consider it a major work of art. It was accepted into competition at Cannes in 2010, but it lost (thank goodness) to the near-masterpiece "Uncle Boonmee Who Can Recall His Past Lives." Juliette Binoche did win Best Actress that year for her work in the film. But I think the Cannes Jury, led by Tim Burton incidentally, was overly generous to her. She's a great actress, but her work in "Certified Copy" was not particularly significant in my view. Binoche plays a French art dealer living in Italy. Her specialty is copies of major works of art, particularly statuary. An English art scholar is visiting her small town in Tuscany on a book tour to promote the Italian translation of his new work "Certified Copy," which critically examines the concept of originality. She volunteers to take him on a driving tour of the area, and the film chronicles their day trip. It is actually filmed in Italy, Kiarostami's first time filming outside Iran I'm told. In a highly unusual bit of casting, the art scholar is played not by a professional actor, but by a famous opera singer, William Shimmel. From what I've read, Kiarostami is quite the polymath, having expertise not just in cinema, but also in painting, photography, poetry, and even graphic design. He's a true Renaissance man. His casting of an opera singer embodies that broad interest in the arts, I would say. He seems to see cinema not as standing alone, but as part of a tapestry of modern arts. The film itself also has that polymath quality. Everywhere you go in "Certified Copy" there's some kind of art, especially painting and sculpture. But even clothes, jewelry and wine are approached artistically. Philosophy is also everywhere. In the first 20 minutes, it seems that the film is going to be a fairly straightforward talk-fest about art and philosophy. But then something quite bizarre happens. The protagonists slowly become different characters. This happens so subtly and gradually, that you don't entirely know when they change. Suddenly I realized they were not strangers, but a married couple celebrating their 15th anniversary. I was so disconcerted and intrigued that I had to go back and watch for the first signs of this change. This was fun, and I liked the mind-bending quality. The problem is that I didn't think this avant-garde technique really meant that much ultimately. It certainly is unusual, but what does it say? It conveys the fluidity of identity and the illusion of the self, but this has been done many times before -- far more trenchantly in "Uncle Boonmee" in fact. It also brings into sharper focus the nature of cinema as a copy of life. There's also a refracting quality, exploring how even in "real life" we often feel like we're imitating something or someone -- sometimes imitating cinema! But this has also been done before and in far more exciting ways. (Jean-Luc Godard, anyone? Ingmar Bergman's "Persona"?) There's a flat look to "Certified Copy" most often, which is rather uninspiring. The cinematography I have to say is quite pedestrian most of the time. Very often the film looks as plain as a TV movie. It takes a lot of work to make Tuscany look plain, but somehow Kiarostami succeeds! So it's a mixed bag with "Certified Copy." Some interesting ideas are explored, but not in a way that's very inspiring or even original. Pardon the pun.
See Details