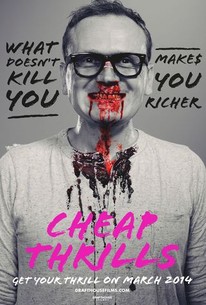 Cheap Thrills
2013, Comedy/Mystery & thriller, 1h 25m
99 Reviews
5,000+ Ratings
What to know
Critics Consensus
Gleefully nasty and darkly hilarious, Cheap Thrills lives down to its title in the best possible way. Read critic reviews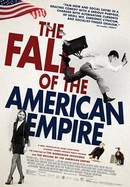 The Fall of the American Empire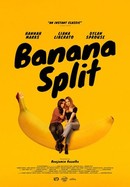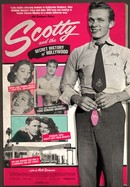 Scotty and the Secret History of Hollywood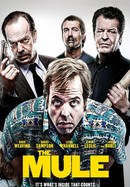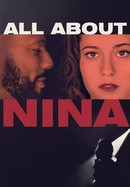 Where to watch
Rent/buy
Free
Subscription
Rent/buy
Rate And Review
Movie Info
A series of escalating bets pits recently reunited friends against each other.
News & Interviews for Cheap Thrills
Audience Reviews for Cheap Thrills
Craig Daniels (Pat Healy) is having a hell of a day. He's been fired on the very same day he's recieved an eviction notice on his front door. Content to drink his troubles away, Craig runs into an old friend from High School. Together they start catching up and run into a unique couple, a couple who starts offering them money simply for doing oddball things for their amusement. The duo agrees and even goes back to the couples house with them, and that's when things really start to get bizarre. I feel like I've seen something similar and far more serious before, but I can't place my finger on it. What I really liked about this film was that despite it's B-movie status, and obvious lack of quality writing, what goes down isn't as expected as you would think. A lot of it really was surprising and they do spare us the pain and torture of doing what is obvious. I also enjoyed Pat Healy as Craig, he's not the kind of character you'd expect to see in a movie like this, and he added an interesting dynamic to a cast that was otherwise pretty droll. Cheap Trills has a few funny and unexpected moments in it, and to be honest it was better than I thought it would be. It still however very much deserves it's B-movie status and reeks of inexperience.

Cheap Thrills is a great thrill and gives the viewer a run for its money (no pun intended). With $250k up for grab, it's up to Pat Healy and Ethan Embry's characters to battle it out, bet for bet, to see who takes home more cash by the end of a crazy night. Sara Paxton and David Koechner play the convincing eccentric married couple who are literally getting their cheap thrills through the other two. I like the four person cast. It keeps things focused and localized and on point. As each bet gets wilder and more dangerous, more money is on the line. Things start out innocently enough before the tide turns half way through the movie to violence and sadistic pranks. It's really dark humor for a film about a man who is married looking to support a wife and child after getting fired from his already low-paying job going against a former high school friend who is a borderline criminal. Big blockbusters don't always hold the sway of the audience compared to complete films like these independents do. At a quick hour and 20 minutes, Cheap Thrills gets you from point A to point B in a fun, slightly disturbing, romp over the course of one night to see who wins the grand prize.

Derivative schlocky thrills of the escalating dares for money variety (Which Would You Rather and 13: Game of Death being two recent examples). What keeps this film interesting are the charismatic leads, black humour and one of the oddest sex scenes I've ever seen.

I know we're supposed to laugh along as the two lead characters are humiliated and debased, but I can't help but feel violated by director E.L. Katz as the film delves into the twisted and depraved.
See Details