The Cheat
(1915)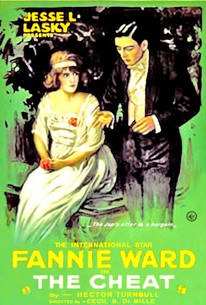 AUDIENCE SCORE
Critic Consensus: No consensus yet.
Movie Info
The Cheat was the picture that "made" the reputation of director Cecil B. DeMille. Broadway star Fannie Ward plays an irresponsible socialite who uses the charity funds entrusted to her to play the stock market. When she loses the money, Ward is afraid to tell her husband Jack Dean, so she arranges to borrow $10,000 from wealthy oriental Sessue Hayakawa. It is understood that, in exchange for the loan, Ward will surrender herself sexually to Hayakawa. When her husband gives her a gift of $10,000, Ward tries to call off her deal with Hayakawa, but the enraged oriental calls her a cheat; wrestling her to the floor, he brands the woman with a symbol signifying that she belongs to him. She responds to this humiliation by shooting Hayakawa. Ward's loyal husband takes responsibility for the shooting, standing trial on an assault charge. To save her husband, Ward confesses all in court, displaying the brand mark on her shoulder. Logically, Ward should now be charged with the crime, but this is 1915: the all-white courtroom spectators pounce upon Hayakawa, nearly killing the poor fellow, and Ward and her husband are exonerated. Depending upon where this film was shown, Sessue Hayakawa's character was either Japanese or Burmese: either way, he was regarded as the villain of the piece almost solely on the basis of his race. Interestingly, Hayakawa was elevated to stardom on the basis of The Cheat, permitting him to play far more sympathetic characters in the future. As mentioned, The Cheat also served as the breakthrough film for Cecil B. DeMille: critics of the time fell over themselves praising DeMille's creative use of low-key lighting and shadow effects to artistically convey his melodramatic yarn. Though The Cheat was remade several times, the 1915 DeMille film remains the definitive version.
Critic Reviews for The Cheat
All Critics (4) | Fresh (4) | Rotten (0)
Made waves during its day because of its explosive sexual and racial content.
Fascinating -- albeit racist -- pre-Biblical DeMille.
May 23, 2004 | Rating: 4/5
Audience Reviews for The Cheat
I loved this movie, it mixes the romance, thriller, and drama genres, sort of like a film noir, but much earlier. There are a lot of cool editing techniques used skillfully too. And I loved the ending. I highly recommend this movie, it's the best movie I've seen from the 1910s so far.
The Cheat Quotes
There are no approved quotes yet for this movie.