Cheeni Kum
(2007)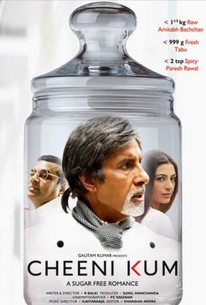 AUDIENCE SCORE
Critic Consensus: No consensus yet.
Movie Info
A man in the autumn of his years finds love with a woman three decades his junior in this romantic comedy-drama. Buddha Gupta (Amitabh Bachchan) is a man in his mid-sixties who has devoted his life to running the most celebrated Indian restaurant in London. Buddha puts his professional life before his personal needs, and has only two close companions -- his mother (Zohra Sehgal), who lives with him and still bosses him around, and a young girl (Swini Khara) who is suffering from a terminal illness. One evening at his restaurant, Buddha encounters a customer who has the nerve to send back a dish, saying it isn't spicy enough, and he meets Nina Verma (Tabu), an attractive and self-assured woman in her thirties who refuses to be intimidated by the restaurateur's reputation. While their first meeting is less than cheerful, fate keeps bringing Buddha and Nina together, and in time they realize they've fallen in love and decide to get married. When Nina learns her father Omprakash (Paresh Rawal) is in the hospital after a heart attack, she flies to India with her fiancé in tow; Buddha, who is several years older than Omprakash, tries to break the news of the coming nuptials to him by asking the father for Nina's hand in marriage. Buddha's respect for tradition leads to a difficult situation when Omprakash refuses to give permission for the May-December lovers to wed.
Critic Reviews for Cheeni Kum
All Critics (2) | Top Critics (1) | Fresh (1) | Rotten (1)
The movie [is] interesting to talk about afterward, but not necessarily any more fun to watch.
The mood is light, the acting generally subtle and the gentle jibes at traditional Indian mores outweigh some of the implausible edges in the script.
Audience Reviews for Cheeni Kum
Boy was I surprised. Not a typicall Bollywood Movie. A 64 years old Londons Best Cooks suddenly fall in love in with a 34. That was really interesting. No songs no Bollywood Kitchy infact I enjoyed it although 64 with a 34 years? Anyhow it is recommendable to Big B Fan. What I liked this Movie was the little girl who seemed to command the old man. That was really funny. She was sort of a "heart" of the Movie as well. The Movie didnt actually focus on a Love Story it showed the circumstances from every ahmm "Main Characters" of the Movie who were involved. Paresh Rawal vs Big B. Wow that was really interesting. Anyhow I think Tabu was a great pick although I must say she is NOT 34 she must be in her mid 40`s. The made a cute couple.
½
This is a very interesting movie! Great story plot, this is an interesting take on the lives of two individuals who find love, despite the difference in their age. Amitabh Bachchan and Tabu are simply brilliant.
Cheeni Kum Quotes
There are no approved quotes yet for this movie.