Cheerleader Massacre
(2003)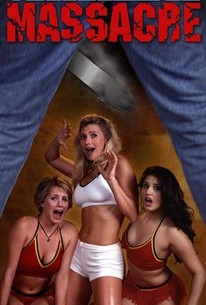 AUDIENCE SCORE
Critic Consensus: No consensus yet.
Cheerleader Massacre Photos
Movie Info
A cheerleading squad find themselves stranded in the mountains, while a convicted serial killer is on the loose, rampaging the area in yet another pseudo-sequel to The Slumber Party Massacre. With only their wits and pom poms to guide them, a group of six high school teens are led into the wilderness by their coach Ms. Hendricks (ex- Fear Factor winner Tamie Sheffield) and wise-crackin' bus driver Buzzy (Leonard Johnson) when their van breaks down in the middle of the woods. Meanwhile, the manhunt is on for a crazy driller-killer that's escaped from prison, seeking fresh blood and vengeance for those that wronged him in the past. When our gorgeous group finds shelter in a seemingly abandoned cottage, the temperature goes from cold to hot, as hormones rage while the body count piles up.
Critic Reviews for Cheerleader Massacre
There are no critic reviews yet for Cheerleader Massacre. Keep checking Rotten Tomatoes for updates!
Audience Reviews for Cheerleader Massacre
You hear about movies this bad, but rarely do you get an opportunity to actually see one. Cheerleader Massacre is beyond low-budget horror, there's virtually no production value and the "acting" isn't even up to the standards of a used car commercial. This abomination isn't worthy of being called a movie, let alone worth watching.
Dann Michalski
Super Reviewer
Really terrible. Avoid even if you're a fan of sorts of Jim Wynorski, he's never been effective directing horror and this "effort" is among the worst. Rife with continuity errors, builds zero tension, incredibly lame killer (or I should say killers), virtually goreless, and only one memorable splash of T&A, the adorably bratty Charity Rahmer getting giggly in the shower. Gotta hand it to Cheerleader Massacre in one respect, it reels off a murder (1:30), nudity (3:00), and a shower scene (5:20) all before you've cracked open your box of Milk Duds. Unfortunately then it says, "Oh shit, what do I do for the next 75 minutes??"
Doctor Strangeblog
Super Reviewer
Yes, it's bad, and yes, it is a cheap porno. But also, it's fantastically hilarious.
Quinto Wallight
Super Reviewer
Cheerleader Massacre Quotes
There are no approved quotes yet for this movie.