Let's Get Lost
(1989)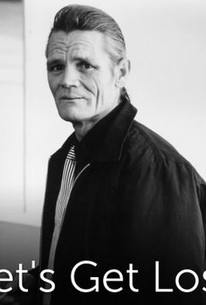 Movie Info
We have to be grateful to iconic fashion photographer Bruce Weber, for giving us this perfect film about the timeless jazz singer and trumpeter, Chet Baker. In the 1950's, cool was the only way to fly, and Chet Baker was what James Dean always wanted to be. Unfortunately for some, using heroin was part of that scene. We see the young handsome and beautiful Baker in California and Italy, where he appeared in at least one movie and at least one jail cell (for drug possession). And, we see the pre-maturely ravaged Baker, detached, indifferent, his face a ruin of heroin addiction.
Critic Reviews for Let's Get Lost
Audience Reviews for Let's Get Lost
A thoughtful, but monotonous, documentary of a tragic jazz figure. Much like Chet Baker's music, the tone is continually soft and low-key. I suppose the most damning criticism I can make is that the film failed to convince me of his genius -- his trumpet-playing was lovely, but not uniquely so, and his endless parade of melancholy love ballads did not connect with me at all. What made him focus so exclusively on this sedate, "cool" style of jazz? "Let's Get Lost" won't tell you. In a way, I think director Bruce Weber was "lucky" that his footage was shot so soon before Baker's death, because the film wouldn't be as notable if not for its happenstance feel of an epitaph.
Eric Broome
Super Reviewer
Chet Baker, the James Dean of jazz. Chet was no saint, and all his flaws are made clear by Bruce Weber but there's no denying that he was a legendary musician, and this is also made evident by Weber. Despite Chet's problems people instantly fell in love with him, the numorous wives and girlfriends, the fellow musicians, the fans, and by the end of the film so was I. Even in the footage of the old and haggard Chet after years of drug abuse he still comes across as an enigmatic figure. I admit before watching this I didn't know much about Chet Baker, but whether you are an avid fan, or just have a passing interest in jazz, this is an interesting piece of work.
see it, even though you can't...
Let's Get Lost Quotes
There are no approved quotes yet for this movie.