Chunhyangdyun
(2000)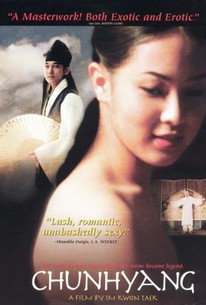 Movie Info
Renowned Korean filmmaker Im Kwon Taek offers his own unique take on a classic romantic fable with this 13th century tale of a stunningly beautiful young woman torn between the man she loves and the governor she's obligated to marry. The film uses the framing device of a present-day narrator who, accompanied by a drummer, sings the story of Chunhyang in front of a responsive audience. The film flashes back and forth between the singer's presentation and scenes of Mongryong (Cho Seung Woo), a young nobleman who falls captive to the beauty of the commoner Chunhyang (Yi Hyo Jeong). They profess their undying love to each other and elope, soon after which, Mongryong is forced to accompany his father to Seoul for three years. In the interim, a tyrant named Byun (Lee Jung Hun) comes to power in Chunhyang's province and demands that the beauty marry him. She refuses, and Byun schedules her for execution -- just as Mongryong returns to the province to reclaim his true love. Chunhyang made its North American Premiere at the 2000 Toronto International Film Festival.
Critic Reviews for Chunhyangdyun
Audience Reviews for Chunhyangdyun
A highly stylized telling of a Korean folk tale from another time concerning love and loyalty. A singer, almost operatic in his delivery, tells most of the tale from a stage in a concert setting and as a voice over to the action. The actors also tell part of the tale in dialogue. Very slow paced, as the action had to fit to the singing, and not the other way around. Intrigue and treachery and brutality and, at last, justice, with a bit of humor mixed in, came together to teach us of this woman's love that cut across the traditional dividing line of class. That love enabled her to bear up under the suffering she experienced as a reward for her loyalty. Beautiful cinematography, breathtaking scenery, and lovely actors were on constant display. At nearly two hours, however, it did begin to get tedious. This simple tale could have been told with less pomp, but then maybe we would not have felt so immersed in Korean culture.
Mark Abell
Super Reviewer
Korean culture and storyteller in cinema. Ancient story with moral teachings. To be with one love and break every obstacle and boundry.
One of my all-time favorites! Love this movie.
Chunhyangdyun Quotes
There are no approved quotes yet for this movie.