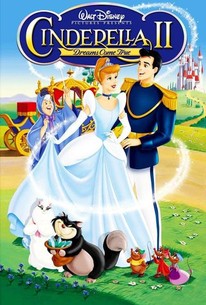 Cinderella II: Dreams Come True
2002, Kids & family/Fantasy, 1h 13m
9 Reviews
50,000+ Ratings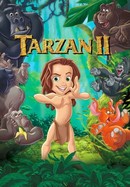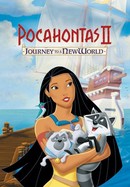 Pocahontas II: Journey to a New World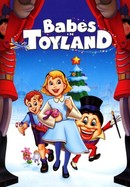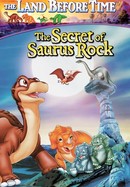 The Land Before Time VI: The Secret of Saurus Rock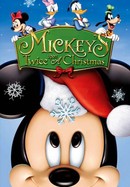 Mickey's Twice Upon a Christmas
Where to watch
Buy
Buy
Subscription
Buy
Rate And Review
Cinderella II: Dreams Come True Photos
Movie Info
Cinderella (Jennifer Hale) prepares for her first royal ball and tries to help her stepsister (Tress MacNeille) find love.
Audience Reviews for Cinderella II: Dreams Come True
A terrible spawn from Disney to cash in (which they succeeded). The stories themselves were not bad but it looked badly pieced together.

Cinderella II isn't terrible. It's just...plain. A few stories strung together with a very loose connection makes it feel like three TV episodes more than a true story. Gone is the warmth, the epic quality of the original and in its place are slapstick and warmed over Disney cliche.

Cinderella was one of the most classic Disney films from the early 1950s. All of the younger kids and adults (myself included) enjoyed this masterpiece with beautiful animation, great voice acting and sweet musical numbers that were very memorable. This movie is the exact opposite. Not only does it ruin the premise of the original, but also has a lot of things that went totally wrong after viewing it. The characters weren't as likable as before and were changed to their personalities. Cinderella and the fairy Godmother were tolerable, but that's not saying much. The mice in the original were as funny as before, but in here, they were changed to unfunny and annoying at the same time. Lady Tremaine and Drizella were the same evil villains, but I didn't like the way this movie changed Anastasia's personality. In the original, she was abusive and cruel. In here, she was changed to a good character and falls in love with an uninteresting Baker. A point would have been nice, movie. The King and the Grand Duke were changed from likable to completely forgettable. Prudence and the recent others were not as interesting as toast and that's it for the characters. The voice acting was completely awful. Jennifer Hale did alright as Cinderella and Tress Macneille was tolerable as Anastasia, but the rest of the voice actors weren't as good as I thought they would be. The story (in which it had the potential, but chose to ignore it) didn't make any sense at all. In the other direct to video Disney sequels, they only had one story. In here, it had three stories all mixed together in a 73 minute length film. What's the point of that? The makers of this crap couldn't even just make one story? I bet they were like, "Hey I have an idea. Why won't we have three stories with each atmospheric premises and have some few scenes that go completely nowhere to the plot whatsoever?" or something like that, but lord knows I wouldn't know. and the musical numbers? ugh! Don't even get me started on the musical numbers because none of them were as memorable compared to the original. I mean, it had the same song "Bibbidi Bobbidi Boo", but compared to the first, it's not that good enough. The rest were just a pile of uttering crap (except the pop song in the ending credits, which is the only good quality of the music). The only highlight of this movie was the animation. It had beautiful colors and very unique character designs, but they're not worth sitting through this god awful film to see it. If boys and girls of younger ages ever come across a direct to video Disney movie, how about they give this movie a watch... unless they need to get their brains examined. Disney ruined the original and they should be ashamed of themselves even though it's been almost ten years since they made this garbage. Who knows? I rather hit myself with a hammer than watch this piece of **** again. 1/10

Worth the watch only slightly because it offers some twists that are somewhat interesting.
See Details