Bei qing cheng shi (A City of Sadness)
(1989)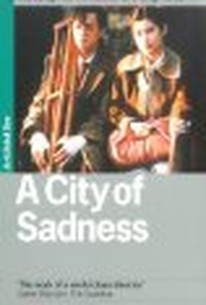 Bei qing cheng shi (A City of Sadness) Photos
Movie Info
Seen through the prism of the Lin family, this complex family drama from Taiwanese master Hou Hsiao Hsien details a brief but crucial moment in Taiwanese history between 1945, when 50 years of Japanese colonial rule came to an end, and 1949, when Chiang Kai-shek's Nationalist Kuomintang forces established a government-in-exile after the Communist army captured mainland China. The film opens with the reedy voice of Emperor Hirohito announcing Japan's surrender as the eldest of the Lin clan's four sons awaits the birth of his child in a coastal town not far from Taipei. Soon afterward, he changes the name of his Japanese decorated bar to "Little Shanghai" and begins trading in the post-war black market. The second son has died in Philippines during the war. The third son, who had a nervous breakdown in Shanghai, starts to consort with Shanghaiese drug dealers upon his return to Taiwan. Once the eldest learns of the third's dealings, he forces him to stop. In retaliation, the Shanghaiese mob arranges for the third son to be imprisoned on trumped up charges of collaboration with the Japanese. The youngest son, Wen-ching, is a gentle deaf-mute photographer who has leftist leanings. The film climaxes with the notorious Incident of February 28, 1947, a Tiananmen Square-style massacre of native Taiwanese committed by Kuomintang troops resulting in between 18,000 to 28,000 causalities. The wounded pour into the neighbor clinic as Wen-ching and his friend Hinoe get arrested. After his release, Hinoe heads for the mountains to join the leftist guerillas while Wen-ching promises to look after his friend's sister Hinomi. Soon after, Wen-ching and Hinomi marry. Just as she is about to bear a child, however, the Kuomintang arrests Wen-ching for his involvement with the guerillas. ~ Jonathan Crow, Rovi
Critic Reviews for Bei qing cheng shi (A City of Sadness)
Audience Reviews for Bei qing cheng shi (A City of Sadness)
This strong and resonant historical drama moves with a deliberate pace and takes a good time to shape what it wants to say and find a focus, but the waiting is more than worth it and the result full of significance, even if it may be hard for the viewers to follow its intricate narrative.
Carlos Magalhães
Super Reviewer
This is the film that put Taiwan on the map of films. It's one of the best films ever made.
Bei qing cheng shi (A City of Sadness) Quotes
There are no approved quotes yet for this movie.