Class of 1984
(1982)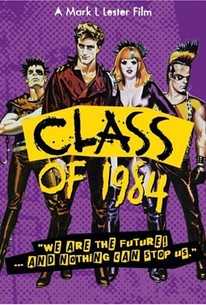 Movie Info
When a group of students led by a psychopath (Timothy Van Patten) terrorizes an inner-city high school, the new music teacher (Perry King) decides on violence as the final measure of discipline. The film was followed by a sequel, Class of 1999.
People Who Like this movie also like
Critic Reviews for Class of 1984
Audience Reviews for Class of 1984
In the early 1980's high schools in the United States had a reputation of being filthy, violent places that were overrun by gangs of rebellious students that can't be expelled for one reason or another (why these hardened criminals would want to hang out a high school all day is beyond me). Films such as Teachers, 3 O'Clock High, and others regurgitated that idea throughout the early part of the decade. Class of 1984 is another member of that genre. The formula follows and idealistic teacher (Perry King) that represents a young go getter, ready to change the world by teaching. You need a leader of the thugs (Timothy Van Patten) who gets into a conflict with the idealistic teacher and drags that person down to his level in the end. The idealistic teacher has to have a spouse (Merrie Lynn Ross) that is semi oblivious until the danger appears at the front doorstep. Finally, you must have the older, fed up teacher (Roddy McDowell) that serves as a mentor to the young, idealistic teacher, but will probably end up a sacrifice to fuel the revenge fire. Class of 1984 is an average film from this genre. Very predictable if you've seen any film like this from the 1980's. The only standout in the film is the performance by Roddy McDowell, who pushes his character beyond its generic function. Otherwise, the film doesn't really stand out from any high school centered version of Death Wish. Class of 1984 serves its purpose more as a time capsule of the era than delivering anything new. This is a totally forgettable film.
Chris Garman
Super Reviewer
The first in the 'Class of' trilogy and a pretty different outlook over the other two as this film is actually more of a serious approach to the story. One teacher up against a gang of yobs within the school which starts off as mere issues but slowly develops into a life or death scenario as both the gang and the teacher press harder for retaliation. Compared to the other films this is a much darker affair which does get pretty tense as you really get behind Perry King's character to defeat the gang, you wanna see him beat them. Set in the present (at the time) so everything looks as it should unlike the sequels. The film does of course look really dated now mainly down to cars, hair styles and outfits but its still a great thriller with a really nice ensemble cast that all perform well. Van Patten as the psychopathic pretty boy leader is really good the way he switches from menacing greaser to a whimpering high school kid to trick the officials, McDowall fits this type of trashy low budget film perfectly and King really cranks up the suspense giving the film real edge. For all its silliness, increasing amounts of violence and lack of subtlety the film is probably quite accurate I think, it possibly does show what can and has happened in urban schools to some degree, the security guards etc...a reasonable prediction. Yes this film was a video nasty back in the day in the UK, one of those films that was thought to corrupt the young and innocent hehe I can see why somewhat. Looking back now though its a good fun revenge thriller which is so gloriously 80's and introduced us all to a young chubby Michael J. Fox.
Phil Hubbs
Super Reviewer
½
Cult shocker (for its time) about a gang of lawless school pupils who rule over the other students and teachers with violence and intimidation until one teacher decides to take a stand and fight back. Yeah it's an entertaining film, not much shock value left nowadays for it as it comes off a bit too cheesy. A rape scene, a severed arm and the use of the word "cunt" are the only offensive things that some people may find in the film. The best moments are towards the end when the punks get the tables turned on them.
Class of 1984 Quotes
| | |
| --- | --- |
| Peter Stegman: | stegman dont play in anybodys asshole band |
| Peter Stegman: | Stegman doesn't play in anybody's asshole band, anyway. |
Discussion Forum
Discuss Class of 1984 on our Movie forum!