Class of Nuke 'em High 3: Good/Bad/Subhumanoid
(1995)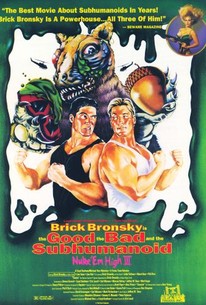 AUDIENCE SCORE
Critic Consensus: No consensus yet.
Class of Nuke 'em High 3: Good/Bad/Subhumanoid Photos
Movie Info
The third installment of the Class of Nuke 'Em High series takes up where the second left off: after saving all of Tromaville from a giant mutant squirrel, Roger Smith is overjoyed at the birth of his twin sons, Dick and Adlai. Unfortunately for all concerned parties, Dick is kidnapped at the hospital and subsequently taught to be very naughty by the thugs who raise him. Adlai, meanwhile, is raised by Roger to be kind and peaceful. Trouble comes in the form of the loathsome Dr. Slag, Ph.D., who uses Dick to frame Adlai for a crime he didn't commit in the hopes of turning the denizens of Tromaville against him. If his wily plot works, Slag will turn the town into a toxic wasteland; with destruction looming, it's up to Adlai to save the day.
Critic Reviews for Class of Nuke 'em High 3: Good/Bad/Subhumanoid
There are no critic reviews yet for Class of Nuke 'em High 3: Good/Bad/Subhumanoid. Keep checking Rotten Tomatoes for updates!
Audience Reviews for Class of Nuke 'em High 3: Good/Bad/Subhumanoid
Just when you thought Classof Nuke Em High couldn't get any weirder...or any worse...it does. That is not necessarily a good thing, but hey, this film is still fun! It seems that Victoria and Roger from the previous film have twins, an evil kid and a good kid and they don't know each other exist. So basically the film is them trying to find each other and using their glowing hand to satisfy girl's sexual fantasies. Although the lead girl in this one is...pretty ugly...Trish. She brings the film down because she is annoying but all she does is fart which is actually kind of funny. This film is more of the same of the last film, just worse...Tromie makes an appearance as well as Greenie The Weenie Man, but they are not in long enough. It is pretty funny how people at the nuclear reactor care more about whether the chicken or the egg came first than trying to save the nuclear reactor from blowing Tromaville to a gob of green goo. Also, this is a good film because this marked Ron Jeremy's first appearance in a Troma film and he has become important to Tromaville making appearances in Terror Firmer, Citizen Toxie, and Tales From The Crapper. So wipe those tears, this is a Troma movie, and it may not be as good as the previous ones but it is fun!
Cassandra Maples
Super Reviewer
Sometimes Troma's sleaze hits the mark, sometimes it misses. This is a clean miss.
Anthony Valletta
Super Reviewer
Class of Nuke 'em High 3: Good/Bad/Subhumanoid Quotes
There are no approved quotes yet for this movie.