Ostre Sledované Vlaky (Closely Watched Trains)
(1966)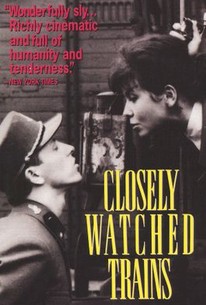 Ostre Sledované Vlaky (Closely Watched Trains) Photos
Movie Info
In this film, Vaclav Neckar plays a Czech railroad worker during the Nazi occupation. He undergoes several philosophical changes as he becomes attracted to the Czech underground. Determining at last that his own existence hardly matters in the scheme of things, Neckar volunteers for a suicide mission.
News & Interviews for Ostre Sledované Vlaky (Closely Watched Trains)
Critic Reviews for Ostre Sledované Vlaky (Closely Watched Trains)
Audience Reviews for Ostre Sledované Vlaky (Closely Watched Trains)
½
A master class in direction, mise-en-scène, cinematography and editing (there is not a single shot out of place), and it makes the best use of a smart symbolism and hilarious sarcasm to jibe the Czech people and society as well as the soviet regime they were living under at the time.
Carlos Magalhães
Super Reviewer
½
A young man's search for identity, and getting laid, is interrupted by World War ll, dammit. Later on Menzel will remake this film ("I Served The King Of England") and it'll be a better film then, but this earlier work pretty well gets all the ideas in there anyway. There's an interestingly parodoxical scene where the hero, unable to "achieve manhood", as he phrases it, goes to a brothel to commit suicide. Funny, no? Yes.
Kevin M. Williams
Super Reviewer
A young man's burgeoning sexuality is a refuge and a distraction from the Nazi occupation. Reading other reviews, I think there is a lot of context that I'm missing. I'm unfamiliar with Czech New Wave cinema or the historical contexts that must have affected the film's production. What I saw was a slow film that didn't amount to much beyond a self-conscious sex comedy. I noticed the satire when pious men deploy religion against sexual urges; though the reality is the complainers are just pissed off they aren't getting laid. And when Milos goes around asking various older women to sleep with him to cure him of "premature ejaculation," it seemed more the matter for a college comedy than an auteur's tour de force. Overall, I wasn't impressed with Closely Watched Trains, but I'm owning my own ignorance in this review.
Jim Hunter
Super Reviewer
Ostre Sledované Vlaky (Closely Watched Trains) Quotes
There are no approved quotes yet for this movie.