CS Blues (Cocksucker Blues)
(1972)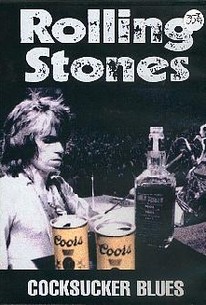 Movie Info
The behind-the-scenes activities of the Rolling Stones on their 1972 American tour are the focus of this quasi-documentary film which has had limited showings due to a lawsuit brought by the band, doubtlessly on the advice of their lawyers. Thus, its official release date (if any) is open to question. While some concert footage is included, it mostly focuses on the backstage and offstage behavior (and misbehavior) of the band and its road crew. Despite the film's cinéma vérité tone, some of the events filmed are clearly staged by the groupies, road crew, and band just for the benefit of the cameras. For that reason, it is difficult to tell how accurate a depiction of the Stones' mid '70s on-tour behavior this is. Among the misbehaviors chronicled are hotel room trashings, and the airplane abduction of giggling, screaming and naked groupies for carnal purposes, as well as assorted drug scenes.
Critic Reviews for CS Blues (Cocksucker Blues)
Audience Reviews for CS Blues (Cocksucker Blues)
Notoriously blocked from official release, "Cocksucker Blues" follows the matured Rolling Stones at the peak of their onstage powers: the expansive 1972 tour, supporting the landmark "Exile on Main Street" album. Presumably inspired by the guerrilla style of D.A. Pennebaker's "Don't Look Back," "Cocksucker Blues" has choppy editing, erratic sound and lots of handheld camera work, and treats live performance as a mere sidelight to the group's backstage antics. Musically, the footage includes exciting chunks of a few classic songs (particularly "Midnight Rambler," "Happy," "Street Fighting Man" and a chaotic "Uptight/Satisfaction" medley with guest Stevie Wonder), but the prime focus is on depraved action away from the spotlight. Such scenes feel like re-edited home movies, with no direct interviews and plenty of trivial chat which provides little character insight. Given this casually voyeuristic tone, the film's highlights can be ticked off like a frat party's code violations. We see shooting up. Cocaine. Naked girls. Roadies gone wild. Mick Jagger's ass. Keith Richards throwing a TV out a window. A getaway trip to a pool hall. A woozy room-service call which botches the simple act of ordering fruit. Glimpses of Truman Capote, Andy Warhol, Tina Turner, Dick Cavett, Terry Southern, Bianca Jagger and Ahmet Ertegun. There's also a charming snatch of impromptu, New Orleans-style piano from Richards. Surprisingly, what we don't see are the other three Stones. Charlie Watts and Mick Taylor are just occasional shadows flashing into view, and the ever-mysterious Bill Wyman scarcely appears at all. "Cocksucker Blues" easily deserves a public release, but the depiction of heroin use was presumably the dealbreaker. It doesn't transcend its genre in the way "A Hard Day's Night" and "Don't Look Back" do, but it's a treasure for the classic-rock set.
Eric Broome
Super Reviewer
the most famous underground film of the rock era, it's available in bootleg form of varying quality and on youtube. it's messy and depressing. the limited concert footage is worthwhile; the rest is a portrait of unglamorous life on the road. all the usual rock star cliches abound and were perhaps first seen here, including rampant drug use, groupie orgies and tossing tvs from windows. it's pretty graphic. the boys already seem bored and it's hard to imagine how they've kept it up for almost 40 more years. of interest mainly to fans who want to see mick stroking himself, keith nodding out and various hangers-on behaving badly.
Stella Dallas
Super Reviewer
So incredibly disappointing. I've heard about this for years before I saw it and it just seemed like a bunch of uninspiring home movie footage pieced together. I know it was the 70s and everything, but COME ON....!!!!
Michael Gildea
Super Reviewer
CS Blues (Cocksucker Blues) Quotes
There are no approved quotes yet for this movie.