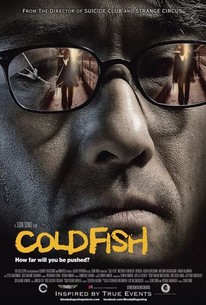 Cold Fish
2010, Drama/Mystery & thriller, 2h 24m
23 Reviews
1,000+ Ratings
Rate And Review
Movie Info
The passive owner of a fish store becomes entangled with a murderous couple and implicated in their gruesome crimes.
News & Interviews for Cold Fish
Audience Reviews for Cold Fish
Japanese horror is one of the best horror sources because of several reasons. First, psychologically, it plays with audiovisual cognitive dissonance, that is, give the audience a seemingly defenseless stimuli and create an environment of ease, for then betraying their feelings with the exact opposite of the film spectrum. This has an advantage: Japanese cinema has never cared about the international censorship, so the commercial standards to which audiences have gotten used to are challenged once more. <i>Cold Fish</i> is cognitive dissonance from beginning to end, not only the entire film (the first introductory 21 minutes until finally the film's title is displayed, against the 100 following minutes, until the orgiastically insane madness shown in the last 30), but also the sum of its parts (the film title shown with an aggressive red font and with a tranquil family background, the middle 100 minutes count with bizarre violent and sexual Japanese trademarks, etc.). Thirdly, nothing is more horrifying than real life. People complain about how slow it takes for the film to get started because of the drama contained throughout, yet rate it highly. The high rating is due to their subconscious enjoyment of the film given that the last chapter acquired a stronger force when a whole situation was created during the first two hours. <i>Cold Fish</i> is celluloid of contrasts "based on true events", which certainly did not stop Sono for applying his gory trademarks and the dark humor which makes you want to laugh and then go to Church and ask for repentance given the fact that you laughed. Do not miss this ride; it ranks as a strong 2010 delivery better than <u>almost</u> all films nominated for an Oscar that year. 85/100

Twisted Japanese gore feat with a dysfunctional family. The Japanese do this stuff so well.

Cold Fish is a dank, dark and highly unlikable film...that I just so happened to really like. It sees a meek and feeble fish store owner, Syamoto, come into contact with a much more confident fish store owner, who gives his troublesome daughter a job. But things aren't as they seem once Syamoto is dragged through a world of sex, murder, disembowelment, business and crime. Syamoto is pushed to the very edge of his humanity by a group of depraved and sickening characters. Fortunately it's helmed by Shion Sono, one of the greatest handlers of dark material. He knows when to make us gag and when to make us laugh. We feel at ease with the material because it is so outside of our protected worlds (hopefully). The pace builds fantastically, from a slow beginning, as we are gradually pulled in to this grim reality, which is based on a true story. It looks at the role of men and women in society, and how the inability to handle emotions can spiral out of control. One of the most pleasant unpleasant watches of recent years.

After an excellent start, the movie failed to work for me as it went ahead. It just kept on getting worse. It's indeed an engaging thriller (based on real events) till it transforms into some sort of soft porno. The story didn't require this extent of graphic scenes, but that's my opinion (which highly matters, if not hardly). Besides, the time-stamp failed to work as a smart distraction. The twists are too predictable to be shocking; in fact, the effectiveness is negative. All that said, Denden's performance is incredibly superb. He holds it up amazingly even as the script falls apart. Won't be unfair to say that it's a terrific flick that goes terrible as it unfolds. Of course, just my opinion. Feel free to differ.
See Details