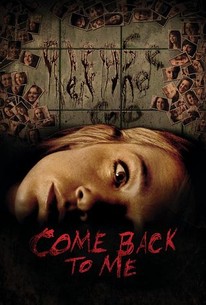 Come Back to Me
2014, Horror, 1h 36m
6 Reviews
250+ Ratings
Rate And Review
Movie Info
A woman (Katie Walder) installs a hidden videocamera in her home in a desperate bid to learn the truth about her blackouts and memory lapses and, in the process, discovers a terrifying secret involving her neighbor.
Rating: R (Bloody Horror Violence|Strong Language)

Genre: Horror

Original Language: English

Director: Paul Leyden

Producer: Anne Clements

Writer: Paul Leyden

Release Date (Theaters): limited

Release Date (Streaming):

Box Office (Gross USA): $4.2K

Runtime:

Distributor: Freestyle Releasing
Audience Reviews for Come Back to Me
The horror thriller Come Back to Me is poorly made and relies mostly on jump scares. After a new neighbor moves in across the street from a young housewife, she begins to experience strange, violent night terrors. Unfortunately the writing is incredibly bad, as the film seems like an endless series of dream sequences; making it hard to tell what's real and what isn't most of the time. Still, the terrors are shot well and deliver some chilling moments. Also, Katie Walder gives a strong performance that really conveys the disorientation and panic that the character goes through. Come Back to Me has some interesting things going on, but it's a mess to get through.

This wasn't supposed to be the next review. I had actually started watching Terminator 2 before this, but I couldn't finish it due to Netflix being an absolute cock. It was the first time I saw Arnold Schwarznegger movies back to back in goodness knows how long. I grew up on the first two Terminator movies, so I'm glad to be watching it again. But I'll review that film once I'm finished with it. Let's move on to this movie. Not nearly as bad a movie as one would reasonably expect from a low-budget horror movie. I know the rating would suggest otherwise, but the acting was decent and it had some tense moments. Nothing outstandingly tense or creepy, but decent enough. While the movie has a supernatural twist, in that Dale can revive people simply by breathing into them, I think there's something about what he does that might disturb some people watching. It's something that could conceivably happen, not Dale's abilities, but just the idea that a stranger could come into your house and watch you sleep or do anything else without you ever finding out that they're there. This isn't exactly what Dale does, but there's parts of it here and there. So I can see how someone might be creeped out by that. I'm pretty much gonna spoil everything, so skip ahead if you don't want this ruined, Dale kills people before bringing them back to life. When these people come back to, they think that what happened was them just blacking out or having night terrors, Sarah's case. Personally, I thought the whole movie worked much better until the reveal of Dale's abilities. There's just more suspense involved as to what is going on. Once you find out what IS happening, it feels a little cheap to be honest. And don't even get me started on the twist. At first glance it actually comes across as a clever twist, but upon further inspection it's actually a pretty laughable one. It makes the movie worse for one. And secondly, it just feels like it's a twist for the sake of one and not because it actually makes any sort of sense. These twists are the fucking worst. If you haven't seen an M. Night Shyamalan movie then you simply won't understand. You're just doing a twist just because you think you're cleverer than the audience, just to be one step ahead of them. What you fail to realize is that you're actually hurting your own movie, in the long run. Is being one step ahead of the audience REALLY that important? Do you want to lord your "superiority" as a storyteller over the audience? Is THAT really that important to you? More important than actually telling a coherent story? Basically the twist comes in the fact that after Sarah kills Dale, everyone he ever killed and brought back to life dies for good, including Sarah and Josh. Again, it comes across as clever at first glance. But it raises more questions than it does answers and they're simply not gonna supply you with answers. I can deal with that, I'm a big boy, I can make my own conclusions. But it's this necessity to have a twist that just kills me. It's not really necessary and it makes the movie worse because you just end up laughing at it all. I'm pretty sure that it wasn't meant to make you laugh, but that's what it did. It made me laugh at least. I thought this film was fairly decent until the reveal of Dale's abilities. It's pretty much all downhill from there. Could've been much, much, much worse, but a terrible last act keeps it from being decent.
See Details