Contamination
(1980)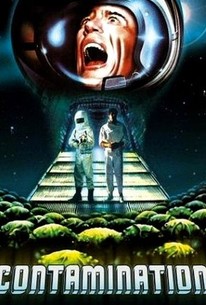 AUDIENCE SCORE
Critic Consensus: No consensus yet.
Movie Info
A look into the contamination of the air and water due to man-made chemicals.
Critic Reviews for Contamination
All Critics (3) | Fresh (1) | Rotten (2) | DVD (2)
Get into the spirit of it, folks. It's like watching dozens of exploding fat men in that Python film. Only, I think the Italians were trying to be serious. Fail.
The one saving grace of this film is the excellent score by Goblin.
Pulsating alien eggs, ham acting and liberal amounts of cheese make for a satisfyingly silly sci-fi omelette.
Audience Reviews for Contamination
Reading reviews I knew that Contamination was an Alien rip off. As far as thats concerned, well this is one entertaining ripoff. I love Italian horror films. Italians have always delivered some gory, depraved shockers, Contamination is definitely one gory film that will appeal to the diehard gore fan. The Strength of this film along with many other Italian horror films is the gore content. I thought the had a good story considering it was a rip off, and I thought the film was very entertaining. Contamination is the perfect example of a well done ripoff. The acting may not be the best, but man does the film deliver on its horrifying content.Contamination might appeal to fans of Ridley Scott's Alien, and as a fan of Scott's sci fi horror classic, I knew that what to expect in this film, but because Contamination is not a big Hollywood production, the filmmakers where able to accomplish a lot more in the gore section. Contamination may not be a perfect film, but I give it high marks for being a horrific and entertaining film. Italian horror has always amped up its violence and though not original, Contamination is still an awesome film that will appeal to horror fans.
½
ルイージコジー監督、出演イアンマカロック、ルイーズマーロー、サンマリノ間瀬、ジークフリートラウチとカルロデMejo 聖霊は、私にはテレビ放送私が覚えて私が若い頃テレビ、からこれを覚えているたわごと。それは遅いと思うか?しかし、それはですとにかくオールド厄介なイギリスのBBFC非常に興味深い歴史を持つイタリア語。しかし、私は彼がかつて私は、全3嫌なものを見たことがあるインチ...私は彼が映画のこれらの種類のように、より多くの才能があったと思うていた3つの映画の多くは、スコットランド人俳優イアンマカロックの最高の演技の瞬間アウトに同意する。 だからニューヨークの港に船の役割は、彼らが、健康と安全部門では、誰もが病気になっていることを確認するために呼び出すとするボード上の誰もがありますか?そして、彼らはすぐにあるあらゆる場所で身体の部分と、大きな緑色の卵の船の負荷を見つける。メンバーの一人が、次の蒸気管にピックアップした後は、皮膚のすべてのあそこ物質のように酸を爆発。一度それにも別の場所にある皮膚が、体が爆発下です。 この事故の後、ニューヨークは地球の細菌の包囲下にある。 私は冗談が80年代に戻ってビデオ淫乱リストにこれを配置することを言う必要がありますか?私が来るという...それはそれは暴力的なだけで血みどろの聞かせてすべての偶数ではない。それはかなりの人がスローモーションで爆発が血まみれだが、私は英語がそれを禁止することで少しのみ過ぎて反応だと思います。先頭日にこれはのみ(使用すると、15する必要がある上にこの映画を表示するために、という意味)私の国では、R - 15開催しました。 それは日の公正な、しかし、それを禁止するか?それだけでも...間違っていると上に。 物語の65%:悪の心を制御手下と火星...邪悪な、素晴らしい(自己中心XDさん)のような大規模な外国人はそれは純粋に任意のジェームズボンド映画のSFのバージョンの詳細ですが、と。 文字の73%は:Ianさんの文字が"イアン"と彼はよくして、Timothyドルトンを行う最高でした。そして、彼はアクションと怖いシーンを持ってこの世界の中でも、好きです。人々は全体的にので、ハイライト面白いとロマンチックがあることができます。 再びイアンマカロックの最高の瞬間を文字のように、このジェームズボンドとして脚光を浴びて:演技で69%。彼は戦いの何か、外国人でその衝突が怒っていた。しかし、他の誰にとってもそれは大丈夫何も文句を言うくらいにです。 特殊効果の80%は:それは時間だとする外国人は驚くほど、すべてのスライムと怖い探し、それを実行しているたわごといくつかの素晴らしい効果があります。そして、それは、食べる方法を心のコントロールの人々。シーンを爆発人々を含む他のエフェクトは、すべての腸のとがらくたは、すぐに本体があるの実行と、怒っていた。ミニオンとその1つは、(自己再び中心!XD)を、見てみると最高。 他のすべてで69%:音楽はゴブリン最高の仕事ではありませんが、いいですね、私はすべてがCDのそれは可能ですがリビングデッドのマイナス地獄が用意されている。それは大丈夫されたアクションは後半の暗い船が、より多くのと怖いスタートを切っている。銃の戦いは大丈夫でした。 がスタートするので、外国人のリッピング、別の不要な映画、で終わって、よかったが、ストーリーは面白かったです。 恵子さんのスコア78から100。
½
I decide to revisit this from after 17 years because I just finished reading the "Mangas" of Alien Arrives on Earth (Contamination). This film its self was a "Video Nasty" in England a list for prosecuting film that are violent and this motion picture got onto that list with all the people exploding in slow motion. Of course it's an Alien (film) rip-off with all the 007 elements in it too although this does have its advantages over Alien. I admit to being frightened of this film with my laserdisc called Alien Contamination when I was really young with all the dead "bodies" just littering the ground, though that version was the edited version that no-one liked. Today I have the Blue Underground DVD which has been digitally re-mastered and is fully Uncut. I think it's funny that the movie was a nasty from England but I laugh that this movie caused some much controversy (I mean why?). It's not that violent it's just ultra bloody though today it holds a 15 rating in England but it always hold's a 15 rating here in Korea for its time and China and Japan and Thailand. I boat drifts into NYC seemingly empty "With no one on board" so the police have a look and find the boat riddled with dead bodies of the passengers for some reason there insides were everywhere. And then they find eggs "Hundreds or even thousands" of them but when heated to a degree they explode spewing out a foul acid that makes the things it touch explode into nothing (or all over the place). So discover the eggs are linked to a mission to mars that ended badly so they get in touch with Ian one of the crew. He explains that they found a cave with millions of them and that someone might be making them here on earth So of course it hits those 007 elements in the second half you know like Stealth, Disguises, Enemies, Deadly evil plans. Ian McCulloch to me it's a very underrated actor who can show us his acting ability very well to me he does a better 007 then Timothy Dalton. Louise Marleau is like one of the bond girls but she herself doesn't do much, like always in any 007 movie the enemies takes them to the secret layer and there they find this alien breading the eggs and it plans to devour them, were Ian McCulloch kicks down the door and starts shooting all the mind controlled minions. The special effects are indeed bloody but not gory, I like the part were the acid stuff leaks onto one of the minions and his insides explode and come out his chest (Alien rip-off of course. And of course the hideous Alien with a massive head like a Martian (he is one of course). With all those unknowing body parts when he devours one of the people. So in all respect to this the effects are MAD there the reason it was banned in the UK and other country willing to sell it. I think what ruins the film is its Pace being slow of course and some scene at least being fast moving. I think it just dulls down the film that's the reason I gave it a "70%". The Mangas kind of drag as well but there altered in a different way. Ian is still the Hero of the Mangas in Anime style but the Alien looks a lot different. Goblins score was a let down wasn't all that good. (My favourite from them is Hell of the Living Dead) Look I Close this not sure there is much else to say." it's not the best Flick to come out of Italy but still good but not violent" If your not sure about the movie watch the "trailer".
Ariuza koraw
Super Reviewer
Contamination Quotes
There are no approved quotes yet for this movie.