Countdown to Zero
(2010)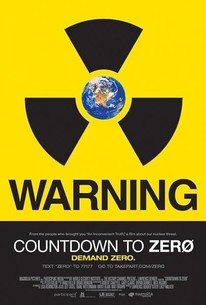 Movie Info
COUNTDOWN TO ZERO traces the history of the atomic bomb from its origins to the present state of global affairs: nine nations possessing nuclear weapons capabilities with others racing to join them, with the world held in a delicate balance that could be shattered by an act of terrorism, failed diplomacy, or a simple accident. Written and directed by acclaimed documentarian Lucy Walker (The Devil's Playground, Blindsight), the film features an array of important international statesmen, including President Jimmy Carter, Mikhail Gorbachev, Pervez Musharraf and Tony Blair. It makes a compelling case for worldwide nuclear disarmament, an issue more topical than ever with the Obama administration working to revive this goal today. The film was produced by Academy Award (R) winner and current nominee Lawrence Bender (Inglourious Basterds, An Inconvenient Truth) and developed, financed and executive produced by Participant Media, together with World Security Institute. Participant collaborated with Magnolia on last year's Food, Inc., recently nominated for an Academy Award (R), and the upcoming CASINO JACK and the United States of Money. Jeff Skoll, Diane Weyermann, Bruce Blair and Matt Brown are the film's executive producers.-- (C) Magnolia
News & Interviews for Countdown to Zero
Critic Reviews for Countdown to Zero
Audience Reviews for Countdown to Zero
½
This documentary about the looming threat of all out nuclear war runs about 45 minutes too long, which means it would have made a disturbing, impactful, and very very good hour long TV special. As a feature length film, however, it wears out its welcome. In a nutshell, the film argues that building a nuclear bomb is relatively easy, although it doesn`t tell us how to do that - for obvious reasons. What is needed is a lot of uranium or plutonium, a substance that is rather difficult to obtain. Investigating further, the film reveals that much uranium has nevertheless fallen into the wrong hands, and several nations have been able to obtain nuclear weapons, either by stealing them, finding missing nuclear warheads (yes, this has happened), or building them with obtained uranium. Frightening scenes emerge in a particular sequence that describes just what would happen if a nuclear bomb were to detonate in a major city. Not only that, several past instances are revealed where all out nuclear war was a minute`s decision away from occurring, many of these instances reminiscent of the Stanley Kubrick war film Dr. Strangelove. Given the material that Countdown to Zero presents, this would have been a great 45 minute documentary that would have had me worried for the future, and anxious to make a difference. But the film is actually twice that length, and instead left me confused, wondering how much of the movie was made out of sheer concern for the survival of our species, and how much of it was incessant fear mongering.
Edward Boxler
Super Reviewer
This documentary on the history and ultimate danger of nuclear arms (not nuc-u-lar, sorry President Bush) is alternating informative and terrifying. Director Lucy Walker utilizes a wealth of interview subjects from high-ranking positions to offer tremendous insight into the shocking ease of acquiring a nuclear weapon and the danger this poses. As a brush-up on history, several talking heads reveal terrifying anecdotes about how close the world came to being one big mushroom cloud. One weapon silo operator reveals that the Pentagon brass bristled at having a safety code imposed by then Secretary of Defense Robert McNamara. So they made the launch code all zeroes, a fact that every person sitting in a silo knew. At any point, somebody could have started nuclear Armageddon at will. Walker lays out a fairly tight case for the reduction of nuclear arms and the need for far better safety protocols to go with a stiff dose of diplomacy. Perhaps enough Congressmen were watching, because during the 2010 lame duck session, Congress passed the START Treaty, which is an agreement with Russia to reduce arms on both sides. Countdown to Zero is an effective little documentary that states a convincing case that occasionally seems more professorial than necessary. Nate's Grade: B
Nate Zoebl
Super Reviewer
½
A horrifying reminder of the dangers of nuclear weapons that remains. Many of us have forgotten since the end of the cold war that all these weapons are still with us and the need to get rid of them not only because of the threats or war but also mistakes, possible accidents or even worse theft by terrorist.
Thomas Johnston
Super Reviewer
Countdown to Zero Quotes
There are no approved quotes yet for this movie.