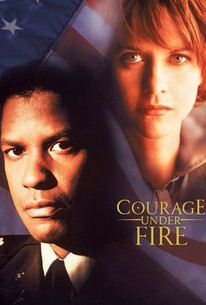 Courage Under Fire
1996, Action/Drama, 1h 55m
58 Reviews
25,000+ Ratings
What to know
critics consensus
An emotional and intriguing tale of a military officer who must review the merits of a fallen officer while confronting his own war demons. Effectively depicts the terrors of war as well as its heartbreaking aftermath. Read critic reviews
Where to watch
Rent/buy
Rent/buy
Rent/buy
Rate And Review
Courage Under Fire Photos
Movie Info
During the 1991 Gulf War, Lieutenant Colonel Nathaniel Serling (Denzel Washington) accidentally caused a friendly fire incident, a mistake that was hushed up by his superiors. Following the war, he is assigned to investigate the case of Army Captain Karen Walden (Meg Ryan), killed in action when her Medevac unit was attempting to rescue the crew of a downed helicopter. But, as Serling interviews the members of Walden's crew, he realizes their stories about the incident don't add up.
News & Interviews for Courage Under Fire
Audience Reviews for Courage Under Fire
"I have only one burning desire, let me stand under your fire!" While Jimi Hendrix was also an American tragedy, I don't know if this film is quite as upbeat as that song, even though it is directed by the guy who made "Legends of the Fall" pretty much a fluff piece in its melodrama. Oh, people probably weren't thinking about that, as much as they were thinking about "Glory", because it seems as though if Edward Zwick makes a film about war, then Denzel Washington just has to be somewhere in there. I think if you look at one of the war battle sequence in "The Last Samurai", Denzel Washington pops up in black Asian makeup somewhere in the background. Seriously those, for those who wanted Washington to receive more of the attention which was divided in "Glory", then you've come to the right place, and for those wondering if Lou Diamond Phillips was still alive by 1998, here you go. Phillips' career seems to be under fire, and he probably would have pulled through this film if that pesky, newcoming Matt Damon didn't show up. Sorry, Lou, but hey, at least you knocked out a couple good films, such as this film, which, even then, like Lou Diamond Phillips' career, has its faults. An investigative drama, the film obviously offers plenty of exposition as it goes alone, but not necessarily about Denzel Washington's leading Nathaniel Serling character, whose immediate development is lacking, and whose gradual characterization is sometimes thinned down for the sake of focusing on Meg Ryan's Karen Walden character's story, which is itself improvably fleshed out, despite the film's possessing a runtime of almost two hours that it achieves partly through dragging. Even as one of Edward Zwick's more minimalist dramas, this film gets to be aimless in its struggling to find things to do, and I'd be a little more willing to accept that if the film didn't have a tendency to run to familiar material to keep busy with. This is actually a fairly unique war drama in a lot of ways, so when uniqueness lapses, it's all the more glaring, for although the film is never truly trite, there are formulaic occasions, many of which were kind of bland to begin with in their consequentiality. Really, whether they be familiar or refreshing, many aspects to this intimate war drama are a little too minimalist to be all that dramatically juicy or tense, and no matter how limited, the natural shortcomings stand, and Zwick struggles to compensate. Zwick has always been a sentimental storyteller, and no matter how genuine his efforts are in a lot of ways, when he gets heavy-handed with, say, James Horner's emotive score or some slightly melodramatic dialogue and visuals, subtlety lapses, ambitiously, if you will, cheesing up the dramatically worthy affair. This and other issues are light, but they still stand and are recurrent, threatening the reward value of drama which is somewhat minimalist in scale. Of course, the film's strengths ultimately prevail, being themselves limited, but prominent enough to endear pretty thoroughly, even if they're sometimes abused. James Horner, in his third and final collaboration with Edward Zwick, turns in a formulaic and sentimental score that is often misused to establish a tonal sting to the histrionics, but more often used effectively, with a lovely and sometimes subtly intense tastefulness that works very effectively when it works in the film's tonal context. Just as he gets to be sentimental with his plays on scoring, Zwick often hits hard with his directorial plays, and not just on Horner's efforts, entertaining with a certain subtle snap to his plays with Steven Rosenblum's editing, and thrilling with a grand staging of gripping war combat sequences, rounded out with some dramatic tension. He has his overblown moments, as I've said time and again, but as a dramatic storyteller, Zwick is effective more often than not, using thoughtful pacing and heavy visuals in a manner that is audacious and genuine, establishing tension and, at times, resonance. Zwick is inspired, at least more often than not, and such inspiration meets ambition enough to compensate for the drama's overblown attributes, although it's not as though you can ever blame Zwick for all the ambition. For a war drama, the film dealing with an investigation of what truly occurred in the heat of a controversial battle, and with a soldier's struggle to bring his mind back home, is minimalist in scale, but worthy as portrait on the struggle to seek truth and peace of mind, with thoughtful direction to endear you to slightly undercooked, but worthy characters, though not quite as much as the performers. The film is intimate with its characters, of course, and it certainly feels that way, thanks to the inspired performances within a cast from which Matt Damon and Lou Diamond Phillips stand out with their intense portrayal of men with dark secrets, just as Meg Ryan impresses in her layered portrayal of a military woman who may or may not have been as heroic as they boast, and Denzel Washington carries the film with his trademark subdued charisma, punctuated by a dramatic intensity that sells Nathaniel Serling's struggle with his duties and personal demons. This and certain other performances define the heart of this military drama, and no matter how dramatically flimsy the final product is at times, it entertains, bites and resonates enough to compel and reward as a portrait on war and humanity. In conclusion, when not underdeveloped, storytelling is draggy, and when not refreshingly genuine, the film slips in conventions and histrionics which bring the narrative's minimalism to light to threaten the final product's reward value, secured by James Horner's tasteful scoring, Edward Zwick's stylish and thoughtful direction, and many a solid performance, - particularly by Denzel Washington - which secure "Courage Under Fire" as a generally tense and moving dramatic portrait on a search for peace within one's own humanity. 3/5 - Good

Courage Under Fire is a incredibly tenseful thriller, and its also a mystery of the death of a soldier. The plot cares about the main character and that made the film very likable, then we switch to this mysterious circumstance of a soldiers death and the film really gets intense and I could tell that what they were going for. As for the cast, Denzel Washington is brilliant as usual and the scenes with Meg Ryan were very memorable, these two performances saved the films ensemble cast and it just seems like if Edward Zwick makes any film then it will automatically have incredible acting. The film is one of the best films directed by Edward Zwick even if I did have some problems with how the film follows up, and when I say that I mean I guess I was hoping for a more shoking conclusion. But this is me complaining about a great film that I highly reccomend.

A well done military drama that primarily deals with right and wrong, separates truth from lies, and what it takes to get to the bottom of multiple people's perspectives on the same event. Denzel Washington is good in his role and Meg Ryan in hers. The film sticks to a predictable but engaging script, where Lt. Col. Nathaniel Serling (Denzel Washington) makes a terrible mistake in his past that haunts him to the present day. In a tragic accident Serling fires at another tank in his unit and destroys it, thinking it to be an enemy tank, only to discover it's one of his own and he's killed one of his friends. The military quickly covers the death up and tells the fallen soldier's family that he was killed by enemy fire while also shipping Serling off to a desk job. In the film Serling in his current duties is investigating a fallen helicopter commander's (played by Meg Ryan) death and her men's description of the event in order to determine if she is eligible for the Medal of Honor posthumously. The film utilizes a Rashômon style form of narrative bouncing between the present and past in multiple different character's accounts of the same event, each with shockingly different explanations and experiences. While the film comes off a tad predictable, it makes for a thoroughly engaging watch with good performances throughout.

Pretty damn good movie if you ask me. Strong acting, strong story. The movie does get a bit overly dramatic at the end there, but all in all this movie is still effective in getting its message across. For free on encore on demand, so watch it.
See Details