Creed II
(2018)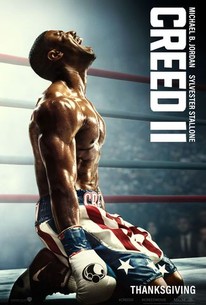 TOMATOMETER
AUDIENCE SCORE
Critic Consensus: Creed II's adherence to franchise formula adds up to a sequel with few true surprises, but its time-tested generational themes still pack a solid punch.
Movie Info
Life has become a balancing act for Adonis Creed. Between personal obligations and training for his next big fight, he is up against the challenge of his life. Facing an opponent with ties to his family's past only intensifies his impending battle in the ring. Rocky Balboa is there by his side through it all and, together, Rocky and Adonis will confront their shared legacy, question what's worth fighting for, and discover that nothing's more important than family. Creed II is about going back to basics to rediscover what made you a champion in the first place, and remembering that, no matter where you go, you can't escape your history.
News & Interviews for Creed II
Critic Reviews for Creed II
Audience Reviews for Creed II
Technically the eighth movie in a franchise spanning five different decades, I think every ticket buyer knows exactly what they are getting with Creed II. It's more of the same formula that's been packing in audiences because it works. Once again Adonis Creed (Michael B. Jordan), son of the legendary Apollo Creed, climbs high, only to be brought low by a challenger, the son of Ivan Drago (Dolph Lundgren), the man who killed his father in the ring. Once more he finds himself with something to prove, a personal score to settle that blinds him as a fighter. I was able to predict every major plot beat from early on, and that's beside the point. Creed II is at its peak performance when it offers small, well-developed character moments to go along with the training montages and boxing beat downs. Spending more time with the characters is where this movie elevates itself from the formula. There's a potently dramatic subplot where Adonis's wife, played by Tessa Thompson, worries that she may have past down her degenerative hearing loss their newborn child. There's a wordless scene of looks that explains everything over the course of an auditory test, and it's gut wrenching. I wasn't expecting the film to humanize the villains as well. Ivan has been living in shame since his loss to Rocky (Sylvester Stallone), cast out by the elites of his society, and his own wife walked out on him and his son. They both see this opportunity as a way to prove something to the woman who abandoned them and the country that turned its back. It's not just a scene either; the Russians (Ukrainians?) get the second biggest storyline of the movie. It made it so that I was genuinely having mixed emotions during the climactic bout, not wanting either side to really lose. Thatï¿ 1/2(TM)s solid writing, movie. The performances are uniformly strong (even Lundgren!) and the emotions build and build until it crescendos. Creed II likely wonï¿ 1/2(TM)t be the last in the franchise, and even though I can predict the sequel already, as long as the filmmakers find room to meaningfully flesh out these enjoyable and winning characters, Iï¿ 1/2(TM)m game. Nateï¿ 1/2(TM)s Grade: B
Nate Zoebl
Super Reviewer
½
The "sins of the father" idea has been played out time and time again since first making its appearance in the books of Exodus and Deuteronomy, but never has it been so deliciously executed as it is in Creed II given the poetry or, as one commentator within the film calls it, "Shakespearean" nature of one Adonis Creed (Michael B. Jordan), the son of former heavyweight world champion Apollo Creed, coming face to face with the son of Ivan Drago (Dolph Lundgren) some thirty-three years after he killed his father in what was supposed to be little more than an exhibition match. The weight of these circumstances would certainly be hailed as nothing short of mythic to any innocent bystander filled in on the details just prior to the projector heating up and then rolling the whole of Creed II, but for anyone who has seen or been a fan of the Rocky franchise for any amount of time and has specifically basked in the glory of all that is simultaneously great and terrible about Rocky IV then it's not as difficult to see how easily Creed II could have turned into an unmitigated dumpster fire that was unable to capitalize on the great mythology because it couldn't re-configure the tone. The tone of Rocky IV, while featuring Rocky's most formidable opponent and the death of his former enemy turned best friend, is somehow largely light and alarmingly disengaged from the consequences of any of the actions any of the characters take, but what it has afforded this new generation of Rocky films that take the name Creed is the opportunity to see these events through the yes of an era where sequels aren't simply cash grabs, but one where they can be taken seriously and be exceptionally executed pieces of cinema depending on the creative team and the amount of freedom afforded them. In taking advantage of the studio who wanted to take advantage of credible filmmakers who were interested in continuing the story of Rocky Balboa, the result so far has been two films that not only revel in the training montages set to motivational music or intensely choreographed boxing matches (though they still take full advantage of these staples), but films that are also genuinely interested in chronicling the present generation and how characters of this present generation operate based on the influence (and sins) of those that came before them. Whereas 2015's Creed showed us Jordan's Adonis trying to figure out who he wanted to be and how to overcome the obstacles and shadow of his father to get there, Creed II continues this development by pushing our protagonist past the point in life where his father found himself; forcing the new heavyweight champ to determine how history will define him outside of being the son of Apollo Creed. read the whole review at www.reviewsfromabed.com
Philip Price
Super Reviewer
½
When it comes to the films in the Rocky franchise, you can pretty much predict how each film will end when the set-up takes place throughout the first act. This is both a positive and a negative that this franchise faces, due to the fact that the formula of these movies is about as perfect as you get when telling a story like this. When Creed hit theatres back in 2015, I was blown away in thinking that it was in the discussion of best films in the entire franchise. This was a tall order to follow in Creed II and while it doesn't quite hit every stride it needs to in order to be classified as one of the greats, I have very few complaints about this follow-up. This is the way you make a sequel. Young Adonis Creed's past isn't all sunshine and rainbows. His father having been killed by Ivan Drago in the fourth installment has him hellbent on a revenge kick when confronted with the opportunity to fight the son of the man who has put so much pain into his life. While this premise may just seem like a way of pleasing fans of the cheesy sequels in the past, it really isn't that at all. While the boxing matches are worth the wait, the heart on both sides of the ring is present this time around. With new obstacles to face in his personal life, the arc that Adonis goes through here was fantastic in my opinion. Michael B. Jordan continues to astound me when it comes to his performances on-screen. Even though he hasn't always been in award-worthy films, his performances have always been out of this world. Once again, he embodies this character with enough emotion and energy to carry this movie from start to finish. His chemistry with Tessa Thompson has carried over from the first film and even digs a little deeper this time around. Their relationship reaches new heights, as well as new lows here, which is very reminiscent of the way Rocky and Adrian were in the second Rocky movie. The emotional core to this overall story hasn't been lost and I loved every bit of drama as much as I loved the boxing matches, which were incredible as well. After Ryan Coogler departed as both writer and director (having done the first film), I found myself slightly concerned that the first would become lightning in a bottle, but that's not the case. Placed in the hands of Sylvester Stallone to write and given to newcomer Steven Caple Jr. to direct made for a nearly superior sequel in my opinion. The flare of this character was brought to the screen in the first in a very captivating way and that's not exactly captured here, but further explored. Taking the characters you love and expanding them is what a sequel is meant to do and this one did that beautifully. In the end, Creed II's only true weakness is the fact that it does feel formulaic at times. You can see where the film is headed most of the time, but that really doesn't take away from the fact that it's extremely effective. I found myself on the edge of my seat during the matches and in emotionally invested in the surprises throughout the course of the film. This truly does feel like the conclusion of certain chapters in this franchise, but I wouldn't mind seeing a third if it can be as well-done as these first two were. Creed II is a fantastic follow-up in my opinion and if you're a fan of this franchise, I highly recommend checking it out.
Creed II Quotes
There are no approved quotes yet for this movie.