Creed II
(2018)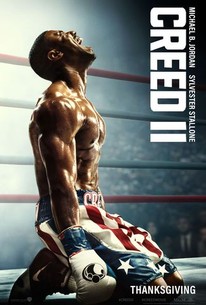 TOMATOMETER
AUDIENCE SCORE
Critic Consensus: Creed II's adherence to franchise formula adds up to a sequel with few true surprises, but its time-tested generational themes still pack a solid punch.
Movie Info
Life has become a balancing act for Adonis Creed. Between personal obligations and training for his next big fight, he is up against the challenge of his life. Facing an opponent with ties to his family's past only intensifies his impending battle in the ring. Rocky Balboa is there by his side through it all and, together, Rocky and Adonis will confront their shared legacy, question what's worth fighting for, and discover that nothing's more important than family. Creed II is about going back to basics to rediscover what made you a champion in the first place, and remembering that, no matter where you go, you can't escape your history.
News & Interviews for Creed II
Critic Reviews for Creed II
Audience Reviews for Creed II
½
Maybe a shade less quality as the first but despite the nostalgia filled material from ROcky 4, it is satisfying and entertaining. Jordan and Stallone are still a great combo and Dolph Lundgren makes the most of his screen time. A feel good movie for sure! 12-16-2018
Christopher Oakley
Super Reviewer
The first Creed was an outright knockout, rebooting a troubled franchise and introducing us to new characters, while redeeming lackluster sequels and having some of the best performances of that year. I am pleased to say that the follow up is of comparable quality. Creed II acts as both a sequel to the previous entry and develops Rocky IV a bit more with Ivan Drago's son challenging Adonis Creed to a match. The themes of sons redeeming their fathers, and revenge vs forgiveness loom large in this solidly directed sequel. Steven Caple Jr. rises to the challenge and while he does not have the finesse of Ryan Coogler, he more than holds his own. Creed II isn't as focused as its predecessor and certainly follows the rhythm of a Rocky sequel, but more ably than many of those. Michael B. Jordan is a household name in 2018, and he infuses a lot of emotion and pain in this role, without resorting to angst. I'd argue that his Adonis Creed is his best character, and he fills the gloves well. I didn't care for Tessa Thompson last time around, but in this outing she becomes more than a love interest and is as vital to the picture's heart as the two main male leads. She has some of the best scenes in the film. Dolph Lundgren returns to his most iconic role and his interplay with his son (Florian Munteanu) also reveals a depth to his character that Rocky IV denied him. In fact, I absolutely love how this movie redeems what was a cheesy, propaganda-laden sequel into a traumatic moment in the lives of these characters. And of course, Sylvester Stallone knows how to pull on our heartstrings. His Obi-Wan Kenobi to Creed's Skywalker shtick still works, and you genuinely buy his worry about Adonis following his father's path to a bloody death in the ring, and why he feels complicit - even if we know that genre films such as this usually end well for the protagonist. Stallone has the right amount of humor and grace to work a role like this, and if this is indeed his last time out as the former Italian Stallion, it was a hell of a sendoff. Overall, Creed II is a worthy sequel that almost captures the magic of the original. The fights are brutal, but they serve a purpose to the narrative. This is prime popcorn entertainment with a bit of craft and strong performances, the kind of picture that used to fill cinemas in previous decades. I look forward to more, even if history has taught me that more is a foolish thing to ask for.
Joshua Sheetz
Super Reviewer
Technically the eighth movie in a franchise spanning five different decades, I think every ticket buyer knows exactly what they are getting with Creed II. It's more of the same formula that's been packing in audiences because it works. Once again Adonis Creed (Michael B. Jordan), son of the legendary Apollo Creed, climbs high, only to be brought low by a challenger, the son of Ivan Drago (Dolph Lundgren), the man who killed his father in the ring. Once more he finds himself with something to prove, a personal score to settle that blinds him as a fighter. I was able to predict every major plot beat from early on, and that's beside the point. Creed II is at its peak performance when it offers small, well-developed character moments to go along with the training montages and boxing beat downs. Spending more time with the characters is where this movie elevates itself from the formula. There's a potently dramatic subplot where Adonis's wife, played by Tessa Thompson, worries that she may have past down her degenerative hearing loss their newborn child. There's a wordless scene of looks that explains everything over the course of an auditory test, and it's gut wrenching. I wasn't expecting the film to humanize the villains as well. Ivan has been living in shame since his loss to Rocky (Sylvester Stallone), cast out by the elites of his society, and his own wife walked out on him and his son. They both see this opportunity as a way to prove something to the woman who abandoned them and the country that turned its back. It's not just a scene either; the Russians (Ukrainians?) get the second biggest storyline of the movie. It made it so that I was genuinely having mixed emotions during the climactic bout, not wanting either side to really lose. Thatï¿ 1/2(TM)s solid writing, movie. The performances are uniformly strong (even Lundgren!) and the emotions build and build until it crescendos. Creed II likely wonï¿ 1/2(TM)t be the last in the franchise, and even though I can predict the sequel already, as long as the filmmakers find room to meaningfully flesh out these enjoyable and winning characters, Iï¿ 1/2(TM)m game. Nateï¿ 1/2(TM)s Grade: B
Nate Zoebl
Super Reviewer
Creed II Quotes
There are no approved quotes yet for this movie.