Critters 3
(1991)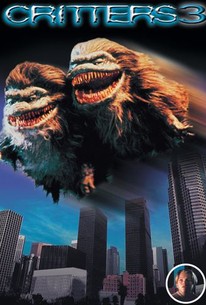 Movie Info
Critters. They're cute, cuddly and will eat you alive. This is the third entry in the tongue-in-cheek horror series. This time one of the fearsome fuzzies from outer space hooks a ride out of Grovers Corners, Kansas and gets into an urban apartment building where it finds a veritable smorgasbord on which to feed.
Critic Reviews for Critters 3
All Critics (6) | Fresh (0) | Rotten (6) | DVD (3)
Suffers from an anemic, episodic plot, weak special effects, and most damning, membership in a virtually worthless film genre - little monster comedies.
Is this the one in the apartment or the one in space? Does it matter?
March 4, 2003 | Rating: 2/5
Three times stupider than its pair of predecessors - and they were pretty stupid.
September 8, 2002 | Rating: 1.5/5
Audience Reviews for Critters 3
Third entry in the Critters franchise and it's clear right from the opening minutes, that the filmmakers have run out of ideas. Critters 3 is notable for being the acting debut of Leonardo DiCaprio. By this time, the third entry has become stale, uninspired drivel, and the fun from the first two films is replaced by a very mediocre script that recycled ideas from the first film, and has nothing new to offer the series. The acting is awful and the film is poorly constructed. The film fails at capturing the classic elements of the first two, and ends up being a tired effort that is simply boring, doesn't have anything going for it. The film could have been much better, but it doesn't, this third entry along with the fourth film are forgettable entries in the franchise that have nothing interesting to offer the series. This could have been an interesting third film, but it's obvious that all the good ideas have been used and the filmmakers were struggling to come up with something good for a third film, unfortunately, the film didn't work and it ends up being a bad one at that.
½
You are what they eat. The movie is just okay. I'm seeing all Leonardo DiCaprio film's and this was one of his earliest work. His role is not so serious or talented wise(director's fault), this movie is just funny. We all know the basics for the story, and this has nothing new. But I love low budget horror & sci fiction camp classics ... so I forgive this one. The third in the tongue-in-cheek horror series liberally cribbed from Gremlins (1984) features an early performance from future heartthrob Leonardo DiCaprio and was filmed simultaneously with its follow-up. This time out, it's an urban family who picks up one of the fast-multiplying beasties while on vacation, although they are warned by Charlie (Don Opper), a veteran of the creatures' earlier attacks. Once widower Clifford (John Calvin) and his kids Annie (Annie Brooks) and Johnny (Christian and Joseph Cousins) return home to their apartment building, the critter begins to reproduce, and the tenement becomes overrun with diminutive, hungry killers. The first to go is cruel superintendent Frank (Geoffrey Blake), but others soon follow, including the unscrupulous landlord, whose son Josh (DiCaprio) finds romance with Annie. With the appearance of the resourceful Charlie and the heroics of Clifford, the critters' days are soon numbered. Critters 3 was directed by Kristine Peterson, a veteran of the Roger Corman school of no-budget genre filmmaking.
½
Not quite as funny or likeable this one, things just got a little too samey. Crazy Charlie is back from the previous films to kick more Critter ass and is also joined by Leo Dicaprio in his debut role.
Critters 3 Quotes
There are no approved quotes yet for this movie.