The Crow - Salvation
(2000)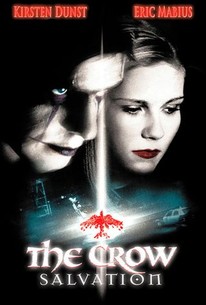 The Crow - Salvation Photos
Movie Info
The third installment of The Crow series, The Crow: Salvation opens with the electrocution of death row inmate Alex Corvis (Eric Mabius) on his 21st birthday. Falsely convicted of the brutal stabbing murder of his girlfriend Lauren (Jodi Lyn O'Keefe) three years earlier, Alex spent the duration of his imprisonment insisting that Lauren was murdered by a man with a series of distinctive scars up and down his arms; unfortunately, the police never found any trace of him. Immediately following Alex's messy electrocution, during which his leather mask melted onto his face, his guardian crow appears to resurrect him. After clawing off the mask, which leaves some interesting burn marks on his face, Alex sets out to find Lauren's killer and clear his own name. He finds an ally for his cause in Erin (Kirstin Dunst), Lauren's sister. ~ Rebecca Flint Marx, Rovi
Rating:
R (persuasive, strong violence, sexual content, language)
Genre:
, ,
Directed By:
Written By:
In Theaters:
On DVD:
Runtime:
Studio:
Critic Reviews for The Crow - Salvation
Audience Reviews for The Crow - Salvation
I wanted to like this, I LOVE The Crow but this just missed the mark. The soundtrack just doesn't hit the right notes and there's nothing to make you punch the air with gothic lust. The characters are OK, not all Crow resurrections will be for people with long hair so its good they didn't just copy Lee's character again. I think Dunst and Mabius are fine, the baddies could have been a little more exciting or defined and its just missing the originals mystical touch. Its abit too serious, the violence is more like a psycho murderer on the loose instead of a comic book vigilante, still its an interesting turn.
Phil Hubbs
Super Reviewer
So here we have the third installment to the series. Is it original? No. Does it offer any new insight to the Crow-myth? No. Should you see it if you didn't like the first Crow? No. Should you see it if you're looking for something more than a remake of the first Crow? Not really. However, if you liked the first Crow, are willing to see more or less the same story again and are a fan of violent action-films, this film will deliver. Of course, Eric Mabius is no Brandon Lee but he does a ok job in the part. He also delivers his dark oneliners effectively and while there aren't any scenes in this film that would make you laugh, there are some fun lines here and there. As I already mentioned, much of the things offered here are the same as in the first Crow. So besides the cast, what has changed? The director, of course. This third film is directed by Bharat Nalluri who's visual style is somewhere between Alex Proyas and Tim Pope. The overall look of the film is still very dark and stylish and there are some scenes with a dark blue tone (which resembles the first Crow) while some other scenes are somewhat yellow (the second Crow comes to mind). There are also some nice camera angles and the action-scenes are directed quite well. The composer is also different. Graeme Revell (who's score for the first Crow is one of the best scores I've ever heard) has been replaced by Marco Beltrami (the Scream-movies). I wish they would have stayed with Revell but Beltrami does a fairly good job with the score and the songs also work well. So overall this is a worthwhile addition to the series and I recommend it to everyone who enjoys a decent action film. I wasn't expecting anything new or original so I didn't raise the bar to high going into this film, I just wanted to see a action film and that's exactly what I got. Although far from being a great film (it is slightly too long), this is ok time waster. Seen better but seen alot worse
David Ladd
Super Reviewer
½
yea so this is a really terrible film and Eric Mabius is not used to this kinda stuff obviously, but something about the cinematography and stuff its cool
Coxxie Mild Sauce
Super Reviewer
The Crow - Salvation Quotes