Culloden (The Battle of Culloden)
(2003)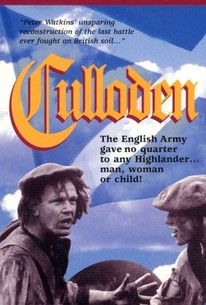 AUDIENCE SCORE
Critic Consensus: No consensus yet.
Culloden (The Battle of Culloden) Photos
Movie Info
Peter Watkins directed this mock-documentary examination of the Battle of Culloden in 1746, the final act in the attempted Jacobite Rebellion and among the first major steps in Great Britain's near-genocide of the original Highland clans of Scotland. Filmed as if a modern-day television news crew was on hand to cover the battle, and using a team of nonprofessional actors, Culloden includes on-the-spot interviews with the participants, reveals the meager circumstances of the Scot soldiers and the questionable competence of Charles Edward Stuart (aka Bonnie Prince Charlie), and reenacts the fearsome brutality of the British troops, who, after defeating the Scots, massacred what was left of their armies. A startling film, which, along with painting a vivid portrait of the horrors of war, explores the economic and class issues behind the conflict, Culloden also draws subtle parallels between the Jacobite Rebellion and Europe's role in the then-ongoing Vietnam conflict. Culloden was Watkins' first project for the BBC; his next would be the highly controversial The War Game. ~ Mark Deming, Rovi
Critic Reviews for Culloden (The Battle of Culloden)
Audience Reviews for Culloden (The Battle of Culloden)
Peter Watkin's "documentary" film "Culloden" talks about the English government's squashing of the Jacobite Uprising in a battle from 1745. It acts as if a television crew were actually there covering the events of the battle and its aftermath. The most interesting part of this film is how vividly it recreates history in front of our eyes in ways some films can't imagine. While interviewing soldiers on both sides you're given an introspective on the events folding in Britain during the early portion of the 18th Century. Watkins is an interesting filmmaker and I look forward to watching more of his films.
Joseph Boomhower
Super Reviewer
This is a gripping recreation of the Battle of Culloden in 1746 which along with being the last battle and armed uprising fought on British soil, was a rout of Jacobite rebels by British forces in one hour eight minutes, followed by repression and cutural genocide of the native Highlanders. Paul Watkins does an amazing job on what must have been a miniscule budget in what has become his usual anachronistic style. He provides an excellent history lesson with lots of interesting details, thoroughly investigating a critical point in time. What may surprise some people is that he is not on the side of the Jacobite rebels but simply in sympathy with those poor bastards forced to fight for each side in this civil war(in one specific case, brothers on separate sides) and every other war since.(You don't have to be an expert in history to know which side the Irish were on.) In fact, Watkins has disdain mostly for the Jacobite leadership, especially Prince Charles Stuart(Olivier Espitalier-Noel), grandson of King James II, who only exploits his ill-equipped and ill-fed soldiers for his own personal cause. Lord George Murray is the only competent Jacobite leader whose tactical genius almost brought them to the brink of victory previously and could have possibly turned the tide of battle here, if heeded.
½
Made for BBC television, this 69-minute mockumentary is director Peter Watkins' account of the 1746 Battle of Culloden, in which a British army decimated the rebel Jacobites of Scotland. But understanding historical context is not vital to appreciate the film -- one only has to watch a primitive war between two armies, one well-equipped but deplorably barbaric, the other ridiculously outmatched and overconfident. And even a grade-schooler can enjoy the central, anachronistic gimmick: an 18th-century event filmed like a modern news story, as unseen narrator Watkins acts as correspondent and soldiers deliver their weary soundbites to the camera. The hard facts are that 5,000 Jacobites -- naive, hungry, unrested and inexperienced -- took on a 9,000-man English army and were thoroughly flattened within roughly the same time required to watch the film. And once the fight had faded, the sadistic Brits methodically combed the fields, finishing off whatever wounded bodies they found. We're told that 1,200 Jacobites were killed versus only 50 British. Staggering. The disaster is pinned upon the foolish Prince Charles Edward Stuart, who was certain that God was on his side and would carry him to impossible victory. Introductions comprise an awful lot of the action, and this grows somewhat tedious. A soldier comes onscreen and Watkins ticks through his capsule history. This occurs over and over again -- probably because the production had no budget for grand-scale battles and settled for smaller stories instead. But perhaps the biggest problem is that, in an age when Monty Python and nerdy war reenactments are standard cultural lore, it can be hard to take "Culloden" seriously. One figurehead in particular, Lord George Murray, recalls a John Cleese caricature every time he speaks. And just try to keep a straight face through a segment where Watkins reads off the peasant soldiers' tiny property holdings. The steady drone of bagpipes is another lurking absurdity. Beware the blancmange!
Eric Broome
Super Reviewer
Culloden (The Battle of Culloden) Quotes
There are no approved quotes yet for this movie.