Cut
(2000)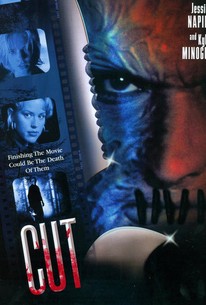 Movie Info
Molly Ringwald stars in this Australian Scream-like horror flick that lodges a tongue in the cheek as much as a knife in the gut. The film opens in 1988 when director Hilary Jacobs (Australian uber-icon Kylie Minogue) is working on a slasher movie called "Hot Blooded" starring plucky American icon Vanessa Turnbull (Ringwald) as a teen who is being chased by a psycho with a mask and some wicked cutlery. After the climactic scene is shot, Jacobs shouts "Cut!" and then harangues the actor playing the killer. That night, the actor stabs the director and almost offs Turnbull. The film is never completed, and when a male director who takes over the project ends up dead too, "Hot Blooded" achieves a hallowed status in student film legend. Fast forward to the present -- Jacobs' assistant director Lossman (Geoff Revell) teaches at a film school and tells his favorite students -- Raffy Carruthers (Jessica Napier) and Hester Ryan (Sarah Kants) -- of his experiences on the doomed set. Raffy, who is itching to be the next Jane Campion, sets out to finish the notorious flick. She enlists Hester as a producer, assembles a crew of fellow students and manages to get Vanessa Turnbull, who hasn't worked much lately, to revisit her role as the film's main character. Of course, as soon as shooting commences, the killing begins anew.
Audience Reviews for Cut
½
As very b grade, low budget slasher movies go, this actually isn't bad. I think it got a bit of an unfair panning. Honestly I think it is meant to be funny rather than scary. I saw it on release at the cinema and I don't remember being disappointed at all with it. I have since bought the dvd and rewatched it recently, and still find it not bad. Admittedly, it owes a lot to Molly Ringwald. Just being fabulous. Here she plays a fading star, but she's so glamorous with it. And kind of bitchy. Really, even if the movie did suck, it would still be worth watching for her appearance. The rest of the cast are pretty much unknown Australians. (Aside from Kylie Minogue, who dies very early on). They are not bad for this genre. The actress who plays Hester I thought had a nice quality on screen, pity she seemed to have not done much else. I don't think it will be the best movie anyone ever watched, but it does have its moments.
Nicki Marie
Super Reviewer
½
An interesting film, But i think it tries a little too hard to be a cult classic. It's old school american horror, which is always fun. The killings were unrealistic and the blood was outrageous, just how a horror movie should be. Sure, it's a "Scream" rip off, but it's still good.
Jacob Palacio
Super Reviewer
½
People seem to be beating this movie up for being the very thing it's trying to parody - a crappy B-grade horror movie. I didn't watch every scene, but what I did see I really enjoyed. Molly Ringwald was great - she's an icon and I love that she did this little film. I did have one question, though. Why did Brad end up in a state of electrocution after Vanessa killed him by way of emergency tracheotomy? He was human, not a robot, right?
Robert Fearon
Super Reviewer
Cut Quotes
There are no approved quotes yet for this movie.