D2: The Mighty Ducks
(1994)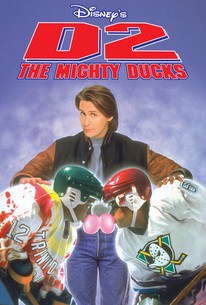 D2: The Mighty Ducks Photos
Movie Info
In this family film, that fledgling flock of unlikely hockey players the Mighty Ducks returns beat the feathers off the opposing teams in the Junior Goodwill games. It all begins when Gordon Bombay, recently thwarted by injuries after he attempted a comeback in pro hockey, is approached by a major sportswear corporation. They want him to reassemble the disbanded Ducks and have them compete in the Goodwill games. Bombay agrees and hits the New York streets to round up his former team. He also successfully adds new players including a super fast skater who cannot stop, and an excellent girl goalie. Once again the bumbling kids must learn to overcome their many differences and work together as a team. They are assisted by a pretty school teacher who travels with them. She and Bombay have a fling along the way. When the team finally makes it to Anaheim for the games, they quickly beat the best teams and finds themselves facing the invincible team from Iceland. They eventually win out, but the victory isn't easy as the Icelanders play hard and dirty.
Critic Reviews for D2: The Mighty Ducks
Audience Reviews for D2: The Mighty Ducks
½
Decent follow-up to The Mighty Ducks, D2 is a decent film that is entertaining but lacks something that made the first one such a memorable family sports film. D2 is less memorable, but is still somewhat entertaining. The cast here are decent and they do what they can to keep the film entertaining. D2 is not a perfect film, and leaves a lot to be desired. However the film is good for a sequel, but it could have been done better. I enjoyed the film; however it's not as fun as the first film. Overall I found the film to be mildly entertaining with decent performances and a decent story. The film never really is anything memorable or great, but for what it is, it manages to be quite entertaining. Originally seeing this when it first came out, I thought it was terrific, but with age you start to notice that films like this aren't that phenomenal, just mildly entertaining. For a sequel, D2 is much better than the third film and is fun to watch, but is never great. Despite the fact that the film has a few restraints with a so-so script, D2 is a good little film to watch as a family. I enjoyed the film, but preferred the first film overall, and like with every series, I thought that the sequel wasn't as solid as the first. D2 is entertaining, but it could have been a lot better, at least it's not as bad the third film, which was a train wreck of a film. For a sequel, this one is entertaining and despite its flaws, it's a lot of fun to watch with your family.
Saw it again!!! My favorite of the 3 films. God I love this movie, never get tired of it, I love them all. One of the best sports inspirational movies of all time for me. After hurting his knee in an accident in the minor leagues, Gordon Bombay returns home. Jan has been promoting him as a good coach, and now, he has become the coach of Team USA. The Ducks are gathered again and joined by five new players- Dean Portman (a big enforcer), Ken Wu (an ex-figure skater), Julie Gaffney (a REALLY good goalie), Luis Mendoza (a "speedster"), and Dwyane Robertson (a cowboy, good puck handler). They are up against the world- including the big boys from Iceland. Can they win against the world?
I remember LOVING this movie when I was a kid. Liked all the new additions, but I'm going to have to rewatch and rejudge.
Jennifer D
Super Reviewer
D2: The Mighty Ducks Quotes
| | |
| --- | --- |
| Adam Banks: | I woke up, and the pain was gone. |
| | |
| --- | --- |
| Gordon Bombay: | Jesse that's not pride. Sure when Dwayne roped that big oof, we cheered. but guys I've been there. I know how you feel. I wanted to cream that jerk that busted my knee when I played in the minors. and I really really wanted to go after Stanton for that cheap shot. But you know what? my knee will heal. But if I become something I'm not, if I sink to their level, then I've lost more than my knee. We're not goons, we're not bullies and no matter what other people say or do, we have to be ourselves. |